Automating the battlefield
Marie Donlon | March 31, 2022
Like many industries of the day, the military, both foreign and domestic, is starting to see its fair share of automation. Joining the ranks of the healthcare, manufacturing and material sciences sectors, among others, the military is offloading several tasks to robots and other automated devices.
While we are still far — albeit not very — from automating the business of fighting, there are several battlefield tasks that have been automated in the name of keeping military soldiers and personnel out of the proverbial line of fire. Join Engineering360 with a look at some of those battlefield tasks that are being automated.
Security and patrolling
Israel Aerospace Industries, a defense contractor based in Israel, has developed a remote-controlled armed robot to patrol battle zones and borders.
The REX MKII, an unmanned land vehicle, is designed to patrol borders and battle zones for trespassers, gather intelligence and carry supplies and injured soldiers or strike nearby targets, thereby keeping human soldiers safer.
The patrol robot, which features sensors, cameras and two machine guns, can be remotely operated via tablet but can also be modified to automate command-and-control capabilities.
Watch the accompanying video that appears courtesy of Israel Aerospace Industries.
Evacuating and surveilling
A military unmanned ground vehicle (UGV) dubbed Rook has been developed through a collaboration between Elbit Systems, an Israeli defense firm, and U.S. autonomous vehicle manufacturer Roboteam.
The fully autonomous, multi-payload Rook can reportedly handle rough terrain both day and night, deliver supplies, evacuate casualties, track soldiers, conduct surveillance, function as a remote weapons system and form convoys with other Rooks, according to its developers.
Additionally, the Rook features a deployable multicopter drone and can make on-field upgrades and modifications without human technicians.
Watch the accompanying video that appears courtesy of Elbit Systems.
Resupplying
Aviation company Bell has developed an autonomous electric-powered military drone that conducts resupply missions for military personnel deployed overseas and in hostile regions.
The drone, dubbed the Bell Autonomous Pod Transport (APT), is capable of carrying two tactical packs that can weigh as much as 60 lb each. The APT can deliver the packs — which typically contain critical supplies including food, ammunition and medical supplies — to either one drop zone or two different drop zones.
Following trials conducted at Georgia's U.S. Marine Corps Air Station Yuma, the APT can reportedly improve efforts by military personnel to conceal themselves while awaiting such deliveries, which are delivered more strategically than those issued by parachutes from military planes. Such resupplying efforts deployed via parachute risk landing in hostile zones where military personnel would have to retrieve the supplies.
Heavy payloads
Security and aerospace company BAE Systems in collaboration with Malloy Aeronautics is developing a heavy payload drone for military applications.
The heavy payload drone, dubbed the T-650 Heavy Lift Electric uncrewed air system (UAS), has a lift payload of roughly 660 lb, a range of 19 miles per charge and is capable of speeds nearing 87 mph.
Additionally, the drone can either be remote controlled or operated autonomously to carry out tasks such as transporting military supplies, evacuating casualties from battle zones, supporting battle scenarios or conducting surveillance.
Blood deliveries
Aerospace tech firm Near Earth Autonomy and aerospace and defense tech company L3Harris have successfully delivered whole blood — blood that has been drawn directly from the body with its components such as plasma or platelets still intact — using a UAS.

Source: L3Harris
Developed under the U.S. Army's Medical Research and Development Command's (USAMRDC) Telemedicine and Advanced Technology Research Center (TATRC), which seeks ways to save military personnel on the battlefield, the UAS is capable of autonomously delivering blood and other medical supplies miles and miles from military bases to medics on the battlefield.
Because access to whole blood in the field is both limited and appropriate for treating hemorrhagic shock in tactical combat care, the USAMRDC TATRC demonstrated how drones could deliver such payloads in the field by incorporating Near Earth's autonomous flight systems and L3Harris' FVR-90 hybrid vertical take-off and landing (VTOL) aircraft.
Yak-like robot
A yak-inspired robot has been developed by the Chinese military to navigate rough terrain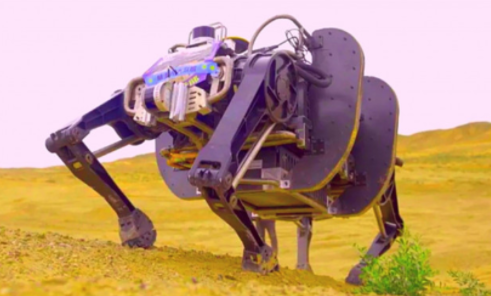 Source: China Central Television
The so-called "mechanical yak" is a quadruped robot that its makers call possibly the largest of its kind. The electric-powered quadruped bionic robot, which, as its name suggests, resembles a yak, can move forward and backward, turn, walk diagonally, sprint and jump, all thanks to its 12 sets of joint modules.
According to its manufacturer, the mechanical yak adapts to different and challenging terrain such as steps, trenches, cliffs, muddy roads, snowy fields, deserts and grasslands, among others.
Additionally, the mechanical yak can carry loads up to 350 lbs and travel at speeds of up to 6.2 mph. As such, the Chinese military is eyeing the mechanical yak for use cases such as reconnaissance missions, wherein the robot collects battlefield data in challenging or risky combat zones.
In addition to being used for gathering tactical battlefield data, the researchers suggest that the robot can also be used to transport supplies such as munitions and food, and could even be equipped with weapons.
Mine-sweeping bots
The U.S. Marine Corps now employs an underwater water robot for locating and neutralizing explosive hazards such as mines.
The Explosive Ordnance Disposal (EOD) Remotely Operated Vehicle (ROV) is a box-shaped robot that features ranging sensors, sound navigation and an articulating arm for removing seaweed as well as disarming explosive devices.
Additionally, the EOD ROV captures high definition video of shallow underwater environments and offers real-time feedback to divers.
According to the U.S. Marine Corps, the robot keeps divers from conducting potentially dangerous missions and it can also be used for reconnaissance applications in the future.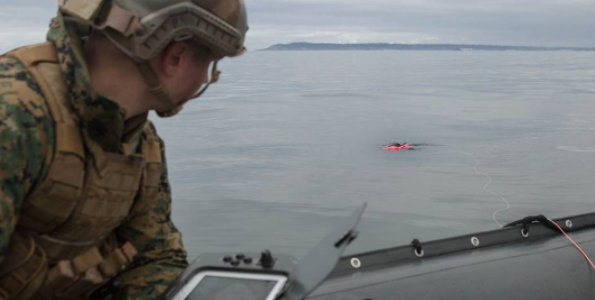 Source: Marine Corp.
More mine-sweeping bots
Pennsylvania-based RE2 Robotics, the manufacturer of the underwater robotic system, has designed the RE2 Sapien Sea Class system, which is capable of placing neutralization devices on underwater mines and water-borne improvised explosive devices (WBIEDs).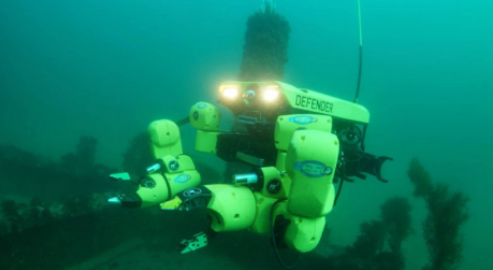 Source: RE2 Robotics
Developed under the Maritime Mine Neutralization System (M2NS) program — wherein the U.S. Navy relies on technology to autonomously locate and neutralize such devices that could be fatal for human divers undertaking the same task — the RE2 Sapien Sea Class features robot arms that can function in waters as deep as 984 ft.
The system will rely on RE2's Detect computer vision software to find the underwater mines while RE2's Intellect autonomously places neutralizing devices on the mines.
These are just a handful of the automation solutions being introduced to the military industry. Check back with Engineering360 for daily coverage of these and other advances in military technology.