Device May Help Combat Medics Save Lives  
Engineering360 News Desk | August 04, 2016
A battlefield explosion that injures a soldier's face or neck can block the critical air passage to the lungs, leading to death within minutes. Now a low-cost, low-tech tool may help combat medics open an airway through the neck to restore breathing for injured soldiers.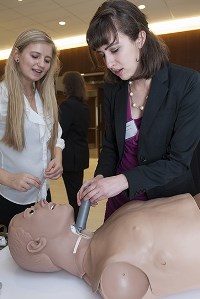 Jordan Kreger observes fellow CricSpike team member Sondra Rahmeh inserting the device. Image source: John Bidlack/Homewood PhotographyThe device, developed by a team of Johns Hopkins University undergraduate students, improves the success rate of cricothyrotomies, which are emergency neck incision procedures performed by combat medics in the field. In recent U.S. military conflicts in Iraq and Afghanistan, 10- 15% of the preventable battlefield deaths were due to airway obstructions or respiratory failure. Military experts say more soldiers could be saved if the battlefield cricothyrotomy success rates could be improved.
The CricSpike prototype is designed to simplify and speed up the procedure, and to improve accuracy of insertion. Recognizing that tools typically used in battle zones often do not manage to connect to the patient's trachea and instead strike the esophagus, the students devised an improved intratracheal tip: it extends beyond the skin layers to the windpipe, but not far enough to reach the esophagus. A two-piece handle breaks away once the tip is connected to the trachea (see video).
Along with the tip handle, the CricSpike kit includes a scalpel to make the neck incision, an endotracheal tube to channel air to the windpipe, and a bag valve mask that the medic can attach and squeeze to push air through the tip or tube and into the lungs.
Although still in the prototype stage, CricSpike components have been demonstrated with a medical mannequin and animal tissue.