The military now recruiting drones
Marie Donlon | February 05, 2022
Upon their introduction, drones, otherwise known as Unmanned Aerial Systems (UAS), were initially intended for hobbyists who flew them for recreational purposes, taking pictures of scenery and other objects. Now no longer exclusive to the hobby industry, drones are proving their value in the military sector, serving as vehicles of transport, tools for surveillance and even as weapons.
Follow along with Engineering360 as it explores the various use cases for drones in the military industry.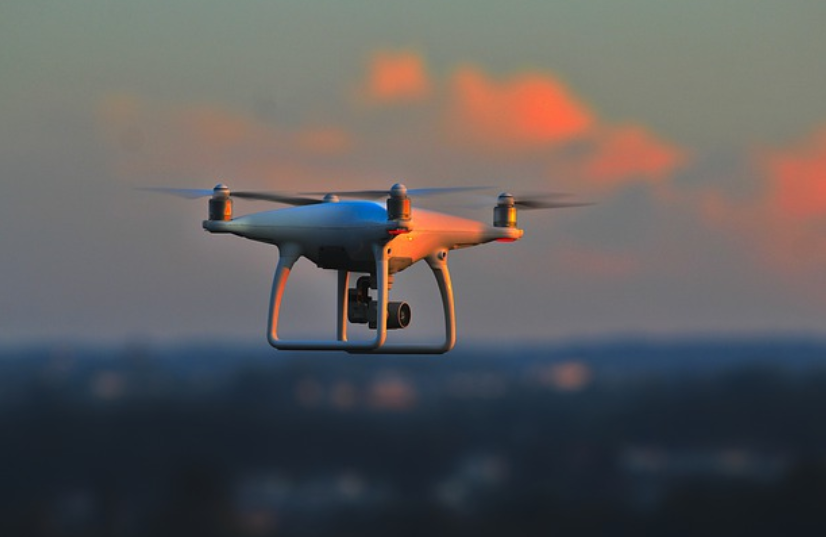 Defense and security tasks
An Israel-based defense and security company has developed a laser drone defense system capable of disabling suspicious drones and drone swarms.
The so-called Drone Dome from Rafael is a counter-UAS, a portable laser system outfitted with a search radar, drone radio command detector, command and control system and an electro-optical sensor.
The anti-drone weaponry can detect suspicious drones — either individually or in swarm formation — and determine whether to jam the suspicious drone's radio frequency or activate the laser weapon. If activated, the laser can melt the plastic housing off of the suspicious drone and destroy its internal electronics, thereby downing the device.
According to Rafael, the drone can detect suspicious objects as small as 0.002 square meters in size and as far as 2.1 miles away. Likewise, the Drone Dome can target erratic drones, keeping them in its crosshairs as the drone moves around to avoid detection.
Gun-toting drone
Russian defense contractor Almaz Antey has built a drone that shoots other drones out of the sky.
According to reports, the drone is equipped with a Vepr-12 shotgun and a 10-round magazine to shoot threatening drones out of the sky.
The Almaz Antey drone is controlled by a visor worn by the pilot that connects via video link to the drone's camera, enabling the pilot to control the direction of the drone and to aim the weapon at targets. Capable of vertical takeoff, the drone is outfitted with a shotgun due to its wide dispersal pattern that reportedly makes it easier to hit a target.
Watch the accompanying video of the drone that appears courtesy of the Russian Military Industry.
Resupplying missions
Aviation company Bell has developed an autonomous electric-powered military drone that conducts resupply missions for military personnel deployed overseas and in hostile regions.
The drone, dubbed the Bell Autonomous Pod Transport (APT), is capable of carrying two tactical packs that can weigh as much as 60 lbs each. The APT can deliver the packs — which typically contain critical supplies including food, ammunition and medical supplies — to either one drop zone or two different drop zones.
For more on information on the APT, watch the accompanying video that appears courtesy of Bell.
Replenishing blood supplies
Aerospace tech firm Near Earth Autonomy and aerospace and defense tech company L3Harris have successfully delivered whole blood — blood that has been drawn directly from the body with its components such as plasma or platelets still intact — using a UAS.
Source: L3Harris
Developed under the U.S. Army's Medical Research and Development Command's (USAMRDC) Telemedicine and Advanced Technology Research Center (TATRC), the UAS is capable of autonomously delivering blood and other medical supplies miles and miles from military bases to medics on the battlefield. To accomplish this, Near Earth's autonomous flight systems were incorporated into L3Harris' FVR-90 hybrid vertical take-off and landing (VTOL) aircraft.
Heavy payload deliveries
Security and aerospace company BAE Systems in collaboration with Malloy Aeronautics is developing a heavy payload drone for military applications.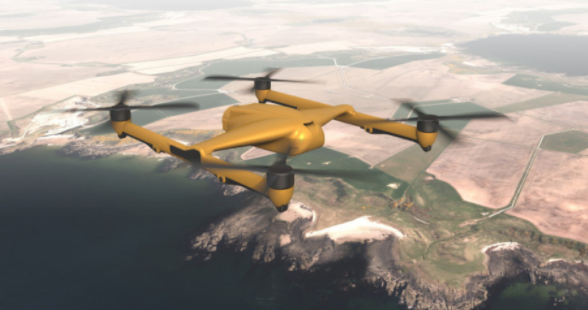 Source: BAE Systems
The heavy payload drone, dubbed the T-650 Heavy Lift Electric UAS, has a lift payload of roughly 660 lbs, a range of 19 miles per charge and is capable of speeds nearing 87 mph. Additionally, the drone can either be remote controlled or operated autonomously to carry out tasks such as transporting military supplies, evacuating casualties from battle zones, supporting battle scenarios or conducting surveillance.
Grenade-launching capabilities
Drones that can double as grenades have recently been tested by U.S. Marines at North Carolina's Camp Lejeune to determine how easily deployable the drones are.
The so-called Drone40 from Australian defense company Defendtex is a drone with a vertical fuselage that can be packed with either explosives or intelligence, surveillance and reconnaissance payloads.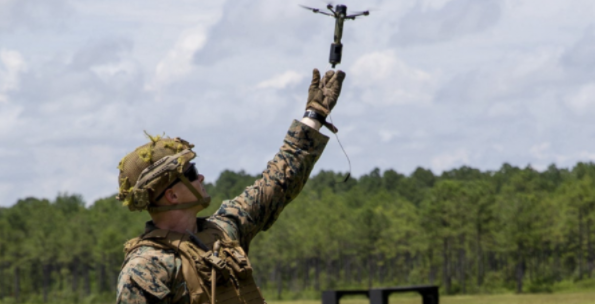 Source: PFC Sarah Pysher
According to its developers, the device is controlled via radio link from a portable ground control station. Additionally, it can be launched via grenade launcher or by hand, hit a target and return to base.
With a 12 mile range, the Drone40 has a flight time of 30 to 60 minutes.
Spy drones
Soldiers in the U.S. Army will soon be outfitted with pocket-sized drones capable of covertly assessing and reporting on battlefield conditions.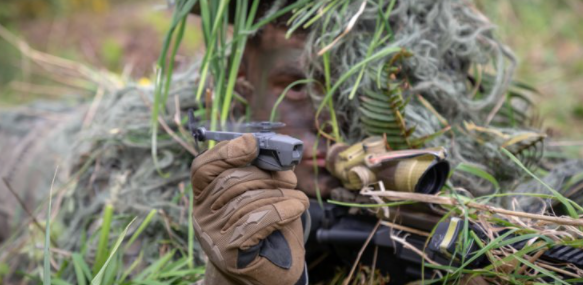 Source: FLIR Systems
Oregon-based drone maker and thermal imaging, surveillance and navigation technologies developer FLIR Systems was recently awarded a contract with the U.S. Army for its "nano unmanned aerial vehicles," otherwise known as Black Hornet personal reconnaissance drones.
The drones are almost entirely silent, according to FLIR Systems, as they hover discreetly over the battlefield, stealthily detecting and identifying potential threats in the battlefield and relaying high-definition images and live videos of the battlefield back to the operator, potentially saving soldiers' lives with the intelligence they communicate. At just 6.6 inches in length and weighing just 1.16 oz, the drones will fit in the palm of a soldier's hand and can be carried in a pocket or on a utility belt. Once deployed, the drones can offer soldiers situational awareness of the battlefield for up to half an hour on a single charge and at a range of 1.24 miles, day or night.
Breaching operations
The British armed forces have developed a new battlefield combat drone capable of taking over dangerous breaching operations, wherein ground troops break down a door to reach an enemy.
The i9 hexacopter drone is a UAS that is capable of navigating indoor spaces occupied by an enemy and identifying enemy targets using machine learning to neutralize them from within based on a remote operator's commands.
According to its developers, the i9 automates breaching operations, which, when conducted by ground forces, can result in high casualty rates. The i9 reportedly uses a demolition charge to enter a building while the drone's operator uses machine learning to verify if the targets within are hostile.
In addition to its six pairs of rotating blades, the i9 hexacopter also features two shotgun barrels to target enemies. Additionally, the i9 can also function as a battering ram, knocking enemy drones from the sky.
Check back with Engineering360 for more coverage of drones and other technologies advancing the military sector.