Happy Manufacturing Day 2019!
Amy J. Born | October 03, 2019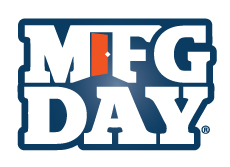 Manufacturing Day, according to its organizers, is a celebration of modern manufacturing that provides an opportunity for the community — including students, teachers, business people, media and politicians — to learn about manufacturing career opportunities and improve their perceptions about manufacturing by visiting participating manufacturers.
This year's festivities kick off on Oct. 4 with events continuing throughout the month. In honor of the occasion, here is a look back at some of the manufacturing news covered on Engineering360 from the past year.
Robots and automation
U.S. manufacturing has seen a three-fold increase in automation, specifically the proliferation of robots, in the automotive and food and beverage industries, among others. While speculation abounds over what robot labor means for human employment, a report from the Institute for Women's Policy Research proclaimed that women stand to lose the most if automation takes over due to the fact that low-wage jobs largely staffed by women fall into this category.
Engineering360 spoke with Massoud Amin, Ph.D. and professor of electrical and computer engineering at the University of Minnesota, about the responsibility of engineers to address the ethical issues resulting from the expansion of technology, automation and robotics.
Students at Stanford University developed a way for robots to learn from humans, rather than with large data sets or by exploring their environments. The impacts of human error coupled with automation were illustrated by the flawed implementation of the maneuvering characteristics augmentation system implicated in the crashes of two Boeing 737 Max aircraft.
Cybersecurity
Data hacks of consumer and financial companies are regularly in the news, but the manufacturing world is susceptible to cybersecurity breaches as well. As reported in Machine tool cybersecurity: preventing IIoT vulnerabilities, connected devices, such as CNC tools or machine tools that monitor their own health, provide enterprising hackers with opportunities for theft and disruption.
Industrial internet of things (IIoT)
Last December, Engineering360 looked at the importance of IIoT integration to the long-term strategy of manufacturing plants, as outlined in a Frost & Sullivan Asia-Pacific study. How an IIoT system enables remote monitoring of factory processes explored the sensing and networking capabilities for reporting and monitoring that enable intelligent management decisions and process optimization in transportation, utilities, factory automation and other industrial applications. What is the most popular industrial network protocol? compared the Industrial Ethernet and fieldbus technologies evaluated in the 2019 study by IIoT solutions provider HMS Networks.
Sustainability
Construction of a plant that will produce jet fuel from domestic and commercial waste is set to begin in 2021. The diversion of non-recyclable waste from landfills and incinerators is expected to achieve a 70% reduction in greenhouse gas emissions for every ton of sustainable jet fuel that replaces a ton of conventional fossil fuel.
The Department of Energy's National Renewable Energy Laboratory found that making wind turbine blades from recyclable thermoplastics rather than thermoset materials can result in energy savings, cost savings and manufacturing efficiencies.
Common flame retardants and other pollutants associated with health problems have been widely found in the environment, as well as in people and animals, but researchers have developed a process that allows these chemicals to completely degrade, eliminating them from groundwater and soil.
Workplace
Engineering360 examined the return of manufacturing jobs to the U.S. from overseas by looking into the Reshoring Initiative's findings and reported on an innovative way Hyundai protects certain factory workers from fatigue and potential injury.
Just for fun
Engineering360 will continue to provide the news and information that is most relevant to the engineering community, but for now, a toast of sorts to Manufacturing Day 2019 in the form of two articles celebrating other special days we acknowledged on behalf of engineers: National cocktail day — there's an engineering standard for that and Engineers and cans of beer — beer can appreciation day.