National Cocktail Day: There's an engineering standard for that
Jonathan Fuller | March 24, 2019
Earlier this year, Engineering360 looked at the engineering developments behind the modern-day beer can in honor of Beer Can Appreciation Day.
This month, March 24 is National Cocktail Day. While engineers have had less impact on the design of cocktails than on the beer can, a few events in recent history show them having a little fun with the subject.
A national standard for…martinis?
The martini is one of the best-known mixed alcoholic beverages, and is simply defined as a mixture of gin and vermouth, often garnished with an olive or a lemon twist. In the early 20th century, martinis were made with a 2:1 ratio of gin to vermouth. As the century wore on, the normal ratio expanded to 6:1, 8:1, 12:1 or even 100:1 in favor of gin. Famous drinkers derived their own variations: Winston Churchill famously took his martini as ice-cold gin "with a bow to France" in place of vermouth, while renowned chef Julia Child preferred vermouth on the rocks topped with a few dashes of gin.
Perhaps inspired by this lack of standardization, or looking to have a little tongue-in-cheek fun, the American Standards Association (ASA) released K100.1 – Safety Code and Requirements for Dry Martinis – in 1966. The standard was last revised by ANSI, ASA's successor, in 1974.
Clearly, K100.1 is the work of ASA staff looking to inject a bit of humor into their typically dry and sterile daily work. The document takes the form of a normal engineering standard, with a few twists. The standard committee is chaired by W.C. Fields, heading the "American Society of Bar Supporters"; "Terrence Pitt" from the "Olive Institute"; and "Harry Underarms" from the "Political Decisions Coordinating Council."
The document goes on to define the drink's ingredients, often with humorous results, and moves on to standard measurements and sizes, accepted tastes and test procedures. It even includes a bogus method of mixing ingredients by shining an incandescent light through bottles of gin and vermouth simultaneously.
Visualizing drinks, by hand and plotter
In the spirit of K100.1, presumably bored engineers with a sense of humor produced two technical drawings of cocktail designs in the 1970s. The Engineer's Guide to Drinks was produced in 1972 as a test pattern for pen plotters, and was quickly copied and redistributed by amused engineers for decades. The drawing has since become legendary — Autodesk engineer Shaan Hurley resurrected the design by redrawing it in AutoCAD, and it made Fast Company's list of the Top 18 Infographics of 2014.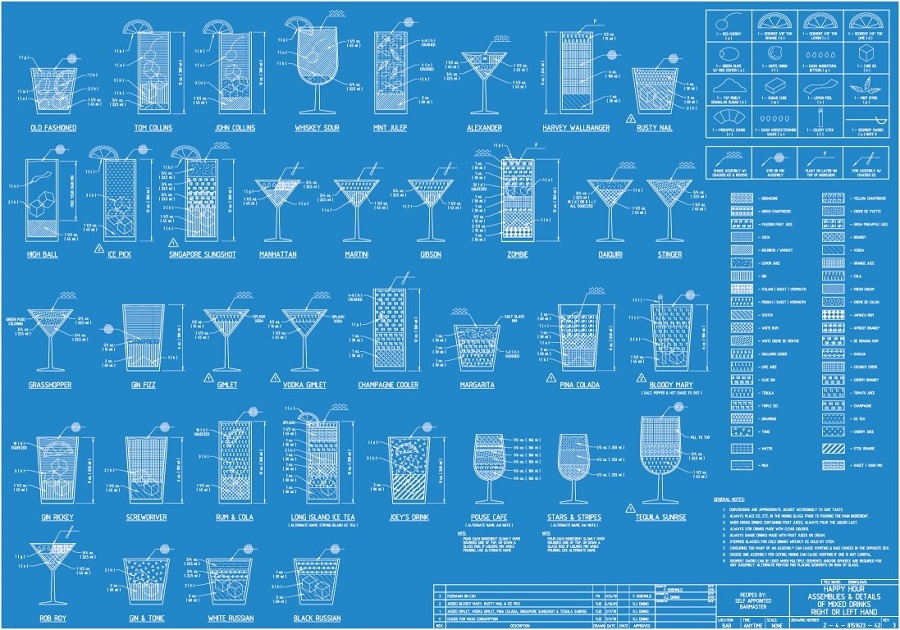 The Engineer's Guide to Drinks, redrawn in blueprint form. Source: Florian Römhild
An almost identical hand-drawn chart was produced by a U.S. Forest Service engineer named Cleve Ketcham in 1974. In 2015, long-running blog Kottke stumbled upon the chart in the Records of the Forest Service, contained in the U.S. National Archives, and it quickly gained viral attention. U.S. Forest Service National Press Officer Larry Chambers told Esquire that the chart was a joke that probably should not have made it into the National Archives, but figured someone decided the document was "too neat to throw away."
Like the authors of K100.1, Ketcham brought a sense of mischief to his precise drawings: the cocktail chart is checked and signed by such fictional Forest Service staff as "I. Mixum", "Jim Beam" and "I.P. Freely." The signatures as well as more tongue-in-cheek jokes can be found at the lower right corner of the document, which is viewable through the National Archives Catalog.
Armed with one standard and two precisely drawn charts, engineers celebrating National Cocktail Day simply have no excuse for poorly mixed drinks. Cheers!