Why have hundreds of thousands of manufacturing jobs returned to the U.S. from overseas?
Eric Olson | May 30, 2019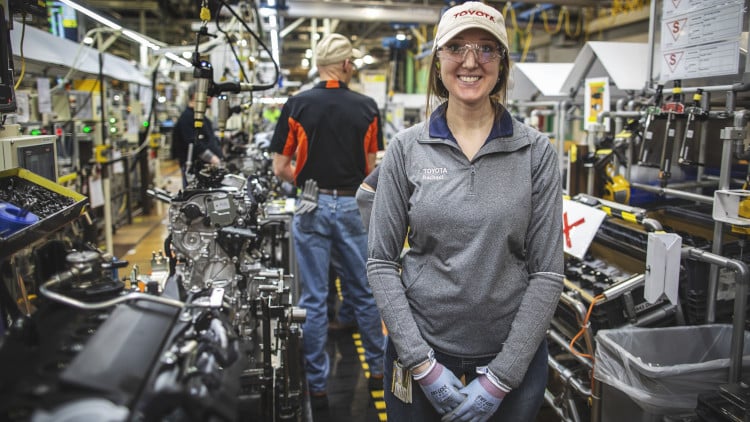 Source: Toyota
After decades of shedding employment, the U.S. manufacturing sector is finally adding jobs again.
The sector is benefitting from a combination of two factors: domestic companies moving production from offshore back to the U.S. and foreign companies investing in manufacturing operations in the U.S.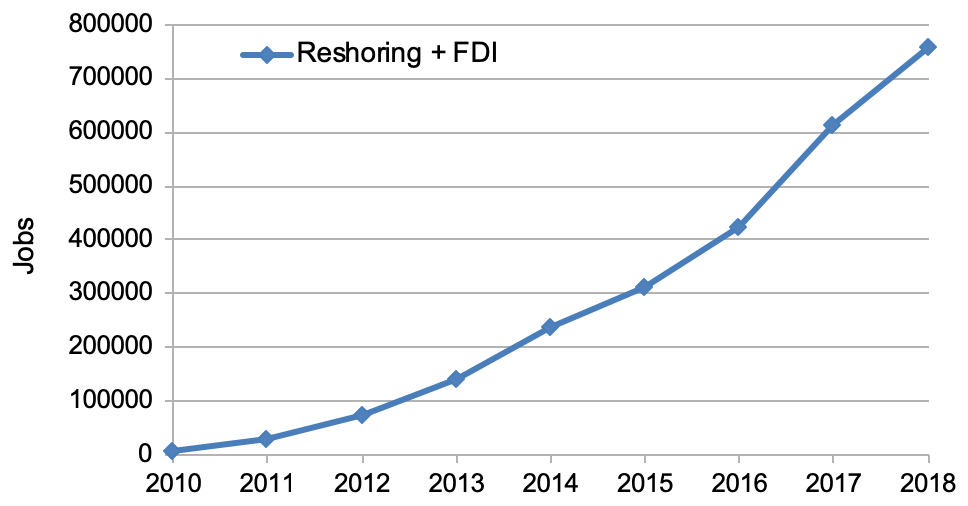 Cumulative reshoring and FDI jobs announced from 2010 to 2018. Source: Reshoring Initiative
Such reshoring activities and foreign direct investment (FDI) resulted in the announcement of 145,000 new U.S. manufacturing jobs in 2018 according to a report by the Reshoring Initiative.
Since 2010, 757,000 total jobs have been added, representing 31% of total U.S. manufacturing job additions since manufacturing employment hit a low of 11.45 million after the Great Recession in February 2010.
The figures are based on data collected by the Reshoring Initiative, a non-profit organization that promotes reshoring investment in the U.S. The data comes from the organization's Reshoring Library, a collection of over 5,800 articles published by business news outlets, privately submitted Reshoring Case Studies and other privately documented cases.
The institute tracks job numbers by assigning them to the year in which the numbers were first announced. On average, the organization estimates that actual hiring occurs 12 to 24 months after announcements.
Motivating factors
The Reshoring Initiative points to a number of motivating factors behind reshoring and FDI. The impetus to reshore comes as companies increasingly recognize the total costs associated with producing goods overseas. Businesses can achieve financial advantages by locating production close to customers. The Reshoring Initiative also believes the trend is driven by improved U.S. competitiveness as a result of cuts to corporate taxes and fewer regulations.
The report tracks both negative and positive factors that influence reshoring and FDI. The top negative issues experienced offshore include: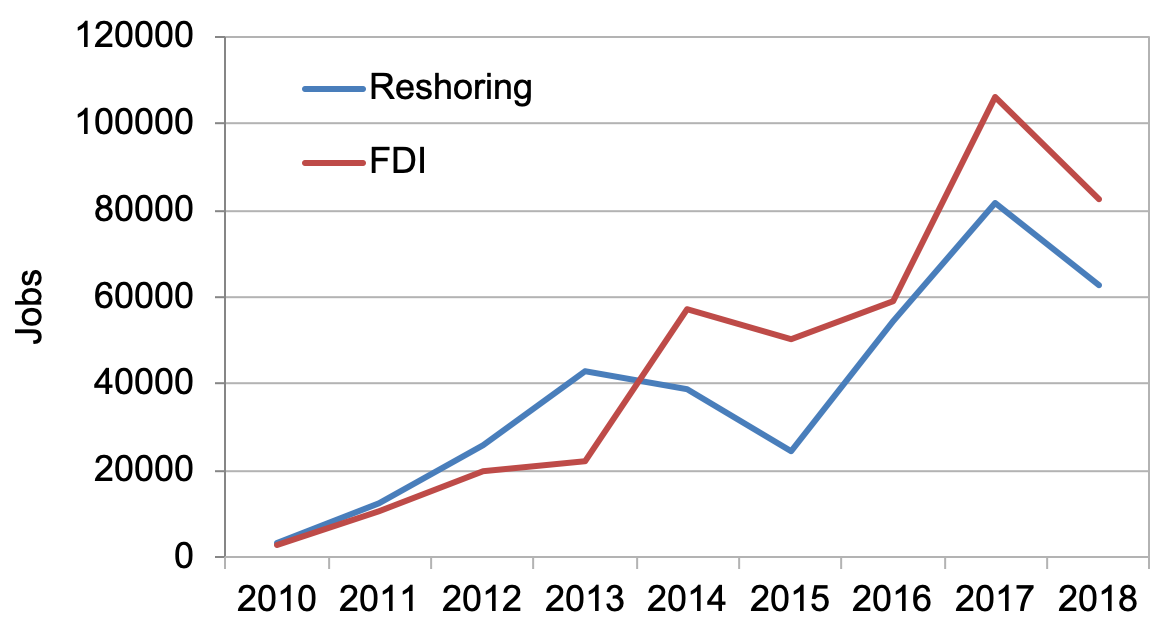 Reshoring and FDI jobs announced each year from 2010 to 2018. Source: Reshoring Initiative
quality/rework/warranty
freight cost
total cost
delivery
inventory
rising wages
supply chain interruption risk/natural disaster risk/political instability
green considerations
intellectual property risk
communications
The top positive factors favoring domestic production include:
government incentives
proximity to customers/market
skilled workforce availability/training
image/brand and made in the USA
eco-system synergies/supply chain optimization
impact on domestic economy
infrastructure
lead time/ time to market
automation technology
higher productivity
Industries and regions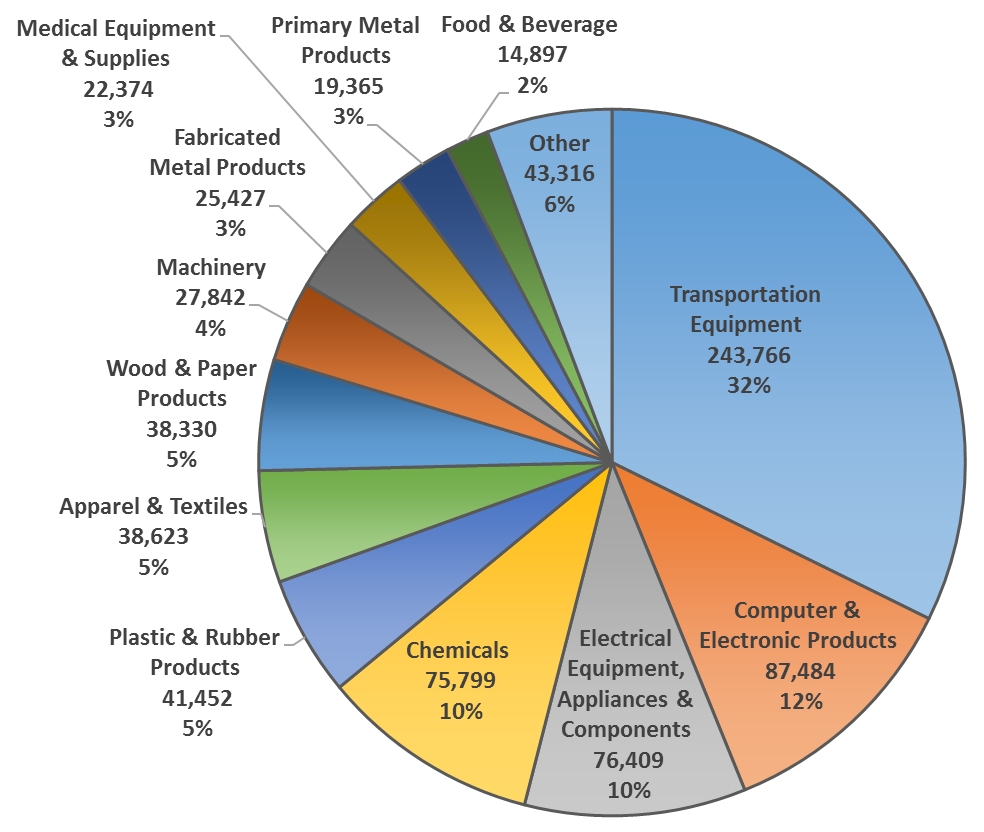 Number of jobs added by industry as a result of reshoring and FDI from 2010 to 2018. Source: Reshoring Initiative. (Click image to enlarge.)
Reshoring and FDI activity is spread across a wide range of industries. A large portion, 32%, is due to investments in domestic automotive assembly plants and parts suppliers, a trend that is continuing in 2019. Toyota announced on March 14 that it will invest $13 billion in its U.S. operations and add 600 manufacturing jobs in the country by 2021.
Manufacturing of large, heavy products like appliances and machinery is also being reshored. Increased domestic production of natural gas is driving investment in the chemicals industry in the U.S.
From 2010 to 2018, 72% of reshored jobs came from Asia, mostly from China. During that same period, 21% came from North America (Mexico and Canada).
Investments from Asia were responsible for generating 46% of FDI jobs from 2010 to 2018, more jobs than any other region. Additionally, 40% of FDI jobs were driven by funds from Western Europe. By country, China was responsible for 19% of FDI jobs, followed by Germany at 18% and Japan at 15%.
Future potential
Although reshoring remained strong in 2018, the report pointed out that the high level of imports into the U.S. indicates that there are lot of jobs that are still offshore. The Reshoring Initiative estimates that 5 million jobs could be reshored to the U.S. economy if the $800 billion non-petroleum goods annual trade deficit was eliminated by utilizing domestic production instead of imports and by increasing exports.
The Reshoring Initiative calls attention to several issues that could slow or accelerate reshoring and FDI in 2019.
Negative factors hindering the trend include concerns about the higher value of the U.S. dollar and the effects of the upcoming 2020 elections on tax rates and regulations.
Positive factors that could continue to drive reshoring and FDI include a reduced unit labor cost gap between American and foreign workers as a result of automation and AI and improvements in skilled workforce programs.
Discover more
Subscribe to Engineering360 Newsletters for industrial and engineering news and information: