Innovative use of materials may enable wind blade recycling
David Wagman | March 22, 2019
Recycling existing thermoset materials that are commonly used in wind turbine blades can be challenging, so researchers at the Energy Department's National Renewable Energy Laboratory (NREL) are investigating a new composite of reactive thermoplastics as a replacement.
They say that these thermoplastics have three key benefits over their predecessors:
They are recyclable at the end of a blade's life
They are less expensive to manufacture
They enable thermal joining and shaping, which is a lighter and potentially more reliable manufacturing process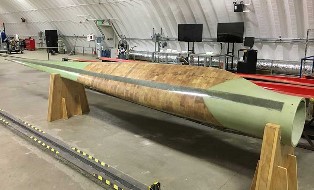 (Click to enlarge.) A completed thermoplastic blade, ready for validation. Source: Dave Snowberg, NRELIn a recent article published in the journal Applied Composite Materials, the team noted that improvements in energy savings can be achieved by recycling retired materials and using thermal welding practices. In addition, thermoplastic materials have a room-temperature cure and require no post-cure steps, which they said is an improvement over traditional epoxy thermoset materials. Traditional materials often require expensive heated molds and an energy- and time-intensive post-cure oven procedure.
Because thermoplastics can be readily heated and formed, they also have the potential to be repaired if damaged.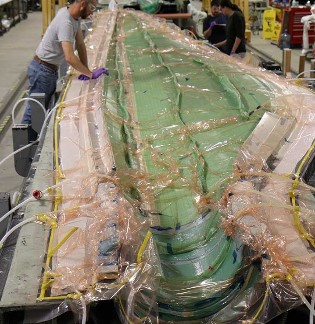 Researchers work to develop a blade using recyclable thermoplastic material. Source: Dave Snowberg, NRELSo far, only blades between nine and 20 m long have been manufactured using these thermoplastic resins. Average utility-scale blades today are up to 50 m in length. Results show that traditional epoxy thermoset materials and thermoplastics perform similarly in small-scale models. This result warrants further research, the researchers said, potentially leading to full-scale experimentation.
NREL worked with partners from the Institute for Advanced Composites Manufacturing Innovation on this research, including: Arkema, Colorado School of Mines, Johns Manville, Oak Ridge National Laboratory, Purdue University, TPI Composites, University of Tennessee and Vanderbilt University.
The research is supported by the U.S. Department of Energy Office of Energy Efficiency and Renewable Energy's Advanced Manufacturing Office. Additional supporters include the State of Colorado Office of Economic Development and International Trade, and the Institute for Advanced Composites Manufacturing Innovation.