What is the most popular industrial network protocol?
Eric Olson | May 28, 2019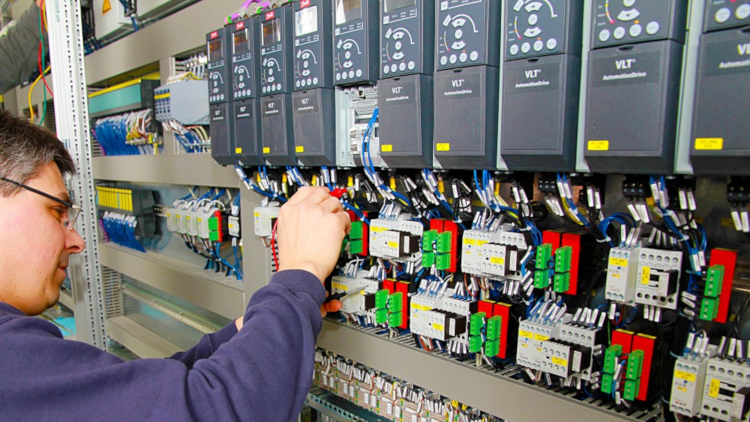 As the number of machines and devices, or nodes, connected to industrial networks grows steadily, a winner is emerging among the protocols that define how devices exchange data.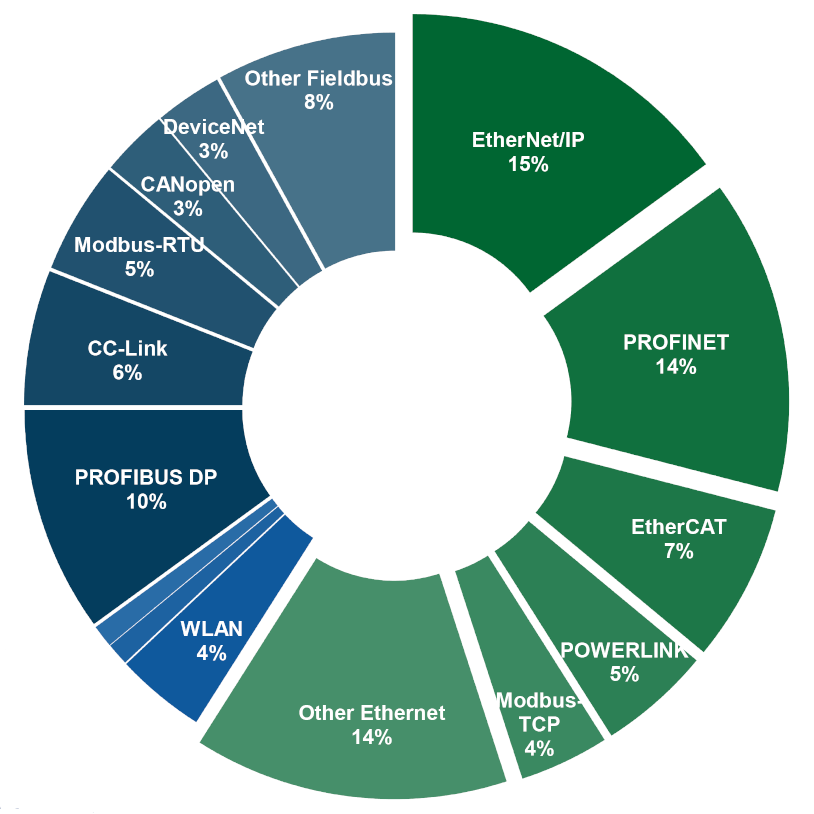 Market shares of newly installed nodes for fieldbuses, Industrial Ethernet and wireless technologies in 2019. Source: HMS. (Click image to enlarge.)
A leader rises
In 2019, Industrial Ethernet standards are projected to represent 59% of newly installed nodes compared to fieldbus technologies at 35%. Overall, the number of new nodes is expected to grow by 10% in 2019.
The numbers are part of an annual study of the industrial network market by industrial communications and industrial internet of things (IIoT) solutions provider HMS Networks, an independent Swedish company that operates globally.
The study from HMS encompasses the company's 2019 estimates based on the number of newly installed nodes in 2018. The numbers are derived from HMS' sales data, the company's overall perception of the market and insights from others in the industry.
This year, 2019, marks the first one that fieldbuses will see a negative annual growth rate in newly installed nodes, losing 5% this year compared to 6% growth last year. Industrial Ethernet is expected to grow by 20% this year, down slightly from 22% last year. The market share of wireless technologies holds steady at 6% with 30% growth year-over-year.
Network trends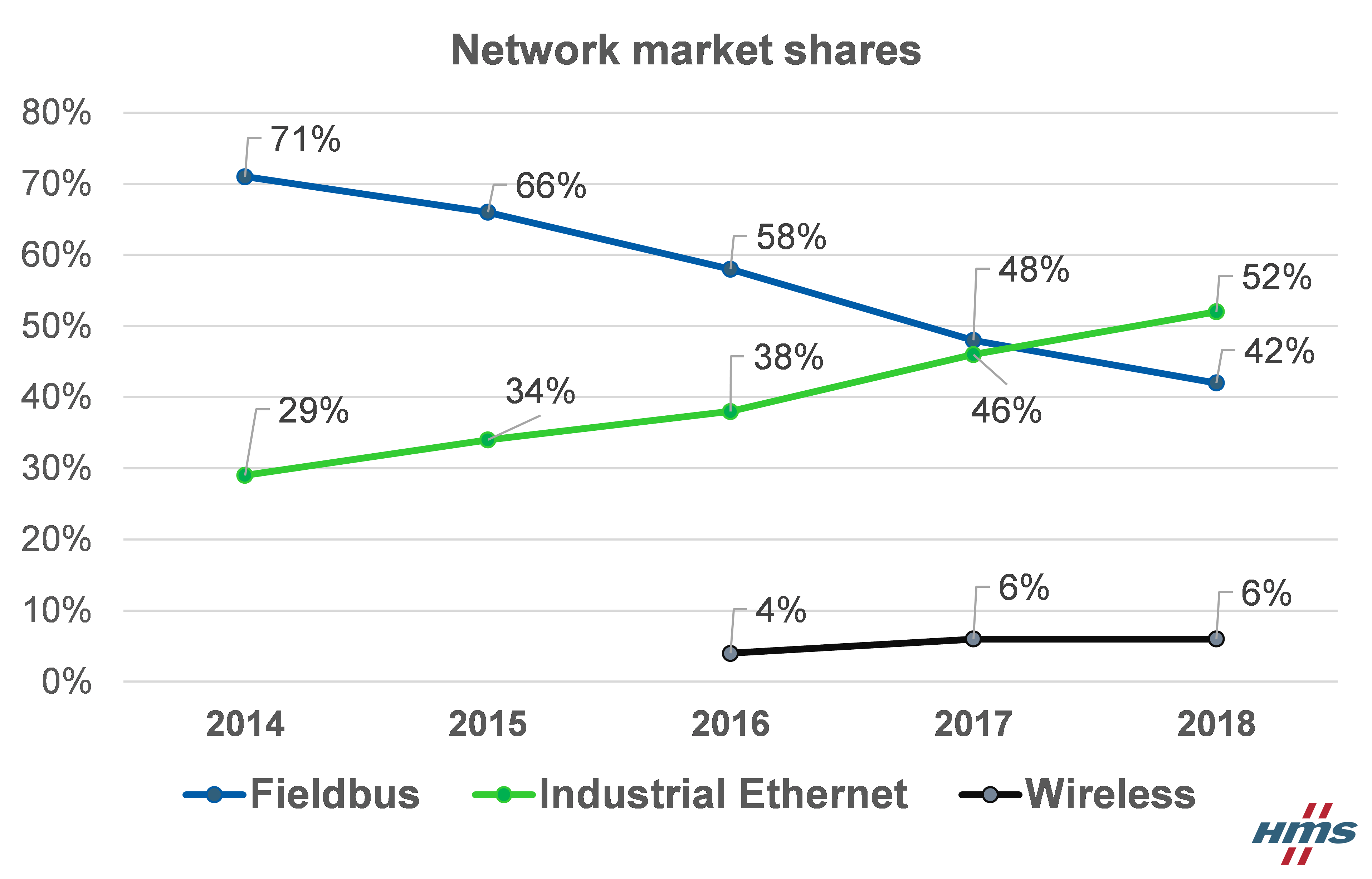 Market shares of newly installed nodes for fieldbuses, Industrial Ethernet and wireless technologies from 2014 to 2018. Source: HMS. (Click image to enlarge.)Industrial Ethernet's dominance in 2019 builds on its growth over the past several years. Since 2014, Industrial Ethernet's market share of newly installed nodes has risen steadily from 29% to 59%, according to HMS. At the same time, fieldbuses have declined from 71% to 35%.
The growth in Industrial Ethernet is taking place amidst the widespread implementation of IIoT solutions. As plant equipment gains connectivity and increasingly granular sensor data on machine and process status is generated, demand for bandwidth is increasing. Operations managers are also seeking technologies that can easily bridge factory networks with traditional IT enterprise networks so that decision makers across the organization gain access to immediate insight into industrial processes.
Market fragmentation
The market for industrial networks remains broadly fragmented. Just like fieldbuses, Industrial Ethernet has not standardized on a single protocol. Instead, each network type serves different applications in the industrial market.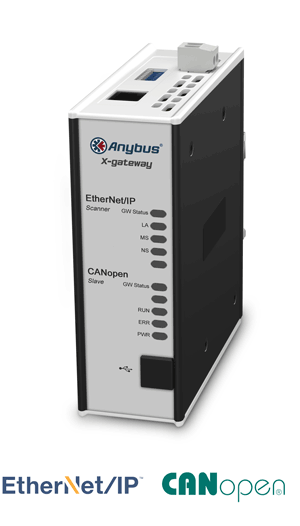 Products like the Anybus X-gateway enable communication between devices on different networks. The gateway pictured functions as a Scanner on the EtherNet/IP network and as a Slave on the CANopen network. Source: HMS Networks
EtherNet/IP is the most popular Industrial Ethernet protocol with a 15% market share of newly installed nodes in 2019, followed closely by Profinet at 14%. Trailing the frontrunners is EtherCAT at 7%, Powerlink at 5% and Modbus-TCP at 4%. Other Ethernet technologies represent 14% of overall market share.
Amongst fieldbuses, PROFIBUS DP will be the most commonly installed network this year with a 10% market share. CC-Link and Modbus-RTU enjoy 6% and 5% shares, respectively, while CANopen and DeviceNet are holding on with 3% market shares each. Other fieldbus technologies add up to 8% of the market.
Wireless technologies have posted impressive growth rates of 30% or more in each of the past three years, although they still represent a relatively small portion of the overall market of newly installed nodes. Among wireless protocols' 6% market share, WLAN is the most popular at 4%, followed by Bluetooth and other wireless technologies at 1% apiece.
New wireless implementations are on the horizon. "We also see increased activities globally around cellular technologies (e.g. Private LTE/5G networks) as enablers for Smart and Flexible Manufacturing in factories," says Anders Hansson, Chief Marketing Officer at HMS.
Regional variations
Across the globe, regions have differing industrial network preferences. In the US, networks that support the Common Industrial Protocol (CIP) are the most popular with Ethernet/IP leading. EtherCAT is also growing. In Europe and the Middle East, EtherNet/IP and PROFINET are leaders, while PROFIBUS is still common. There is no clear frontrunner in Asia, but PROFINET, EtherNet/IP, PROFIBUS, EtherCAT, Modbus and CC-Link enjoy widespread adoption, with the Ethernet technology CC-Link IE Field growing as well.
Discover products on Engineering360