Hyundai develops a robotic exoskeleton for factory workers
Marie Donlon | September 06, 2019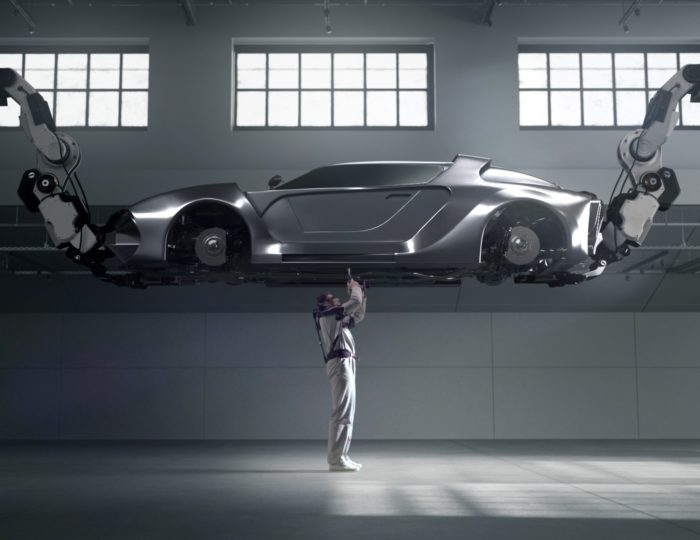 Working with your hands over your head is tiring, but the VEX could reduce fatigue and improve productivity. Source: HyundaiA wearable robot vest has been developed by Hyundai Motor Group to assist factory workers who spend a significant amount of time working in overhead settings.
When worn, the robot, called the Vest Exoskeleton (VEX), reportedly improves a worker's ergonomics and productivity while reducing worker fatigue and the potential for injury by mimicking the motions of human joints, thereby boosting mobility and load support. The VEX combines several pivot points along with multilink muscular assistance, thus making a battery unnecessary.
The wearable robot weighs just 2.5 kg, making the device lightweight enough to be worn for extended periods of time. It is worn much like a backpack with shoulder straps and waist and chest buckles that can be adjusted to fit an assortment of body types.
Aimed at factory workers working with their arms extended above their heads for significant periods of time, Vex's developers believe that the robot vest is ideal for those working in automotive factories underneath vehicles in particular, bolting their undersides, fitting brake tubes or attaching exhausts.
"VEX gives workers greater load support, mobility, and adaptability when operating in overhead environments," stated DongJin Hyun, head of Robotics at Hyundai Motor Group. "Workers will also appreciate how light VEX is to wear and work with."
Already successfully trialed in two of Hyundai's U.S. factories, the VEX will soon be made available for sale to other industries. Likewise, Hyundai is also in the midst of developing a "Chairless Exoskeleton," another wearable robot that improves factory worker ergonomics and productivity while enabling factory workers to sit almost anywhere.