Volvo to develop self-driving trucks using Nvidia's AI platform
Peter Brown | June 19, 2019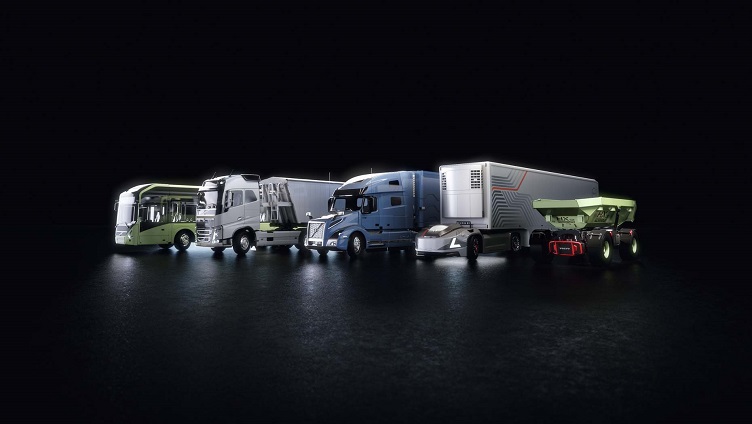 Nvidia will help develop an automated system for self-driving trucks for Volvo. Source: Volvo
Volvo Group has signed an agreement with Nvidia to develop a decision-making system for self-driving trucks and machines.
Volvo will use Nvidia's end-to-end artificial intelligence platform for training, simulation and in-vehicle computing for improved safety in autonomous vehicles on public roads and highways. The platform will use Nvidia's software stack for sensor processing, perception, map localization and path planning for autonomous trucks for freight, refuse and recycling, public transport, construction, mining, forestry and more.
The initial goal will be to develop a scalable self-driving system that will later be used for commercial pilots and eventually commercial offerings from Volvo. The agreement will span several years with the initial steps to begin immediately and development between the companies happening in Gothenburg, Sweden and Santa Clara, California.
The agreement will cover end-to-end computing for autonomous trucks including a data center for training deep neural networks, large-scale simulation for hardware-in-the-loop testing and validation of autonomous vehicle systems. Additionally, the Nvidia Drive platform will feature a full software stack for 360-degree sensor processing, mapping and path planning.
Self-driving trucks are seen as the next step in first-mile shipping and logistics that will help address the nation's current truck driver shortage that has roughly 50,000 unfilled driver positions. That shortage is expected to grow to 175,000 by the mid-2020s, according to sources in the trucking industry. These autonomous trucks will also help with the increase in demand that is expected in the e-commerce industry, requiring more trucks on the road.
Automation will allow trucks to run all day and night with minimal effort from human drivers or people monitoring the trucks externally. Companies are now establishing educational training to guide skilled truck drivers in the use of autonomous truck technology.
The truck driver shortage has a number of startups developing self-driving technology. Larger companies are also joining the fray, including Daimler and the United States Postal Service, which is testing service in Arizona and Texas, and more.