Daimler establishes self-driving truck unit
Peter Brown | May 30, 2019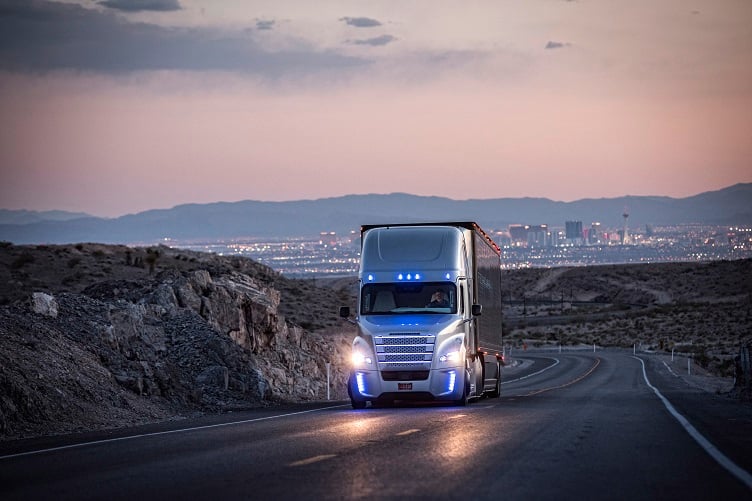 The autonomous truck unit will work toward developing Level self-driving vehicles for delivery services. Source: Daimler
Daimler Trucks is creating its new Autonomous Technology Group in order to accelerate the development of self-driving trucks.
Autonomous trucks could be the next step in the evolution of first-mile delivery. The delivery industry as a whole is currently dealing with a number of challenges such as a driver shortage and an increase in demand for deliveries due to the rise in e-commerce shopping. Self-driving trucks could allow for more trucks to be on the road without hiring additional drivers and increase the frequency of trips since humans wouldn't undergo the normal wear and tear of long-haul journeys.
Most of the current developments involve Level 2 or Level 3, or so-called partial autonomous, technology. However, the real value of self-driving trucks will happen when full autonomy comes online with SAE Level 4 (high driving automation) and SAE Level 5 (full automation) in the next decade.
Daimler Trucks' new unit will work on a roadmap for establishing operations infrastructure and network toward series production of Level 4 autonomous trucks. Daimler said Level 4 is the next logical step after Level 2 to increase both the safety and efficiency of trucks as well as productivity.
Daimler previously announced it would invest more than $570 million toward its self-driving trucks and will now include the newly acquired Torc Robotics into the Autonomous Technology Group pending approval of the acquisition. Torc is developing its Asimov self-driving software and testing it at its Blacksburg, Virginia, facility and will work with Daimler to port the software to its own autonomous hardware development. The new group will use Torc's facility for future testing as well as locations in Stuttgart, Germany and Portland, Oregon, with plans to further expand the test fleet at a later date. Torc will remain a separate entity, however, and retain its name, team and existing customers.
In addition to the software development, the Autonomous Technology Group will work on chassis redundancy, sensor kit integration (lidar, camera and radar) and operations infrastructure consisting of one main vehicle control center as well as additional stations at logistics hubs.
Daimler Trucks will also work with other automated vehicle technology units across Daimler, including joint activities with passenger cars. At the same time it will continue to develop its own system and focus on highway goods and inner-city passenger transportation.