US Postal Service begins self-driving truck trial
Peter Brown | May 23, 2019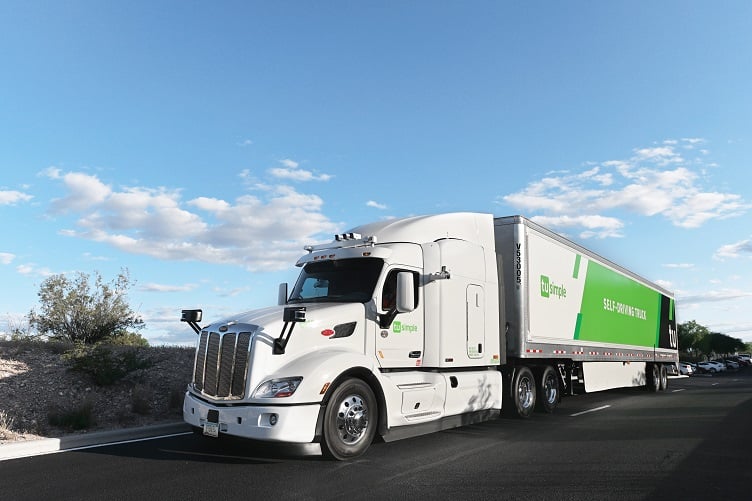 TuSimple is supplying the trucks the Postal Service will use to test self-driving first-mile deliveries. Source: TuSimple
The United States Postal Service (USPS) is testing shipping parcels via self-driving trucks in order to experiment with next-generation technologies for the future of logistics.
The USPS is working with TuSimple, a self-driving truck company, to test the service hauling trailers on the more than 1,000 miles of road between Phoenix, Arizona, and Dallas, Texas, distribution centers. TuSimple will perform five round trips during a two-week pilot with a safety engineer and driver on board to monitor the vehicle performance and to ensure public safety.
TuSimple has been testing its autonomous trucks in Arizona for a while, and the trips to Texas will mark the first time the company has tested its vehicles outside of Arizona. The self-driving trip will take about 22 hours each through Arizona, New Mexico and Texas and will follow the I-10 corridor that accounts for 60% of the total economic activity in the U.S., TuSimple said.
Once self-driving trucks become more popular for transporting parcels, food and other goods, TuSimple believes this will be a central route because of the strong customer demand that runs between the states.
"It is exciting to think that before many people will ride in a robo-taxi, their mail and packages may be carried in a self-driving truck," said Dr. Xiaodi Hou, founder, president and CTO at TuSimple. "Performing for the USPS on this pilot in this particular commercial corridor gives us specific use cases to help us validate our system, and expedite the technological development and commercialization progress."
Long routes are typically done with two driving teams that are required to travel overnight and share close quarters with one another. Self-driving trucks could not only potentially help with the turnaround times during these overnight trips, but also with the driving shortage that is expected to reach a deficit of 175,000 drivers by 2024, according to the American Trucking Association.
The USPS is looking to autonomous delivery technology to help reduce fuel costs, increase safety in operation and improve its fleet utilization by increasing the hours of operation.
Self-driving trucks are seen as the next step in first-mile logistics as the rise of e-commerce means an increase in shipments on the road. With not enough drivers to handle the influx of packages being shipped across the U.S. and the world, self-driving trucks may be key to meeting the upcoming demand.
Additionally, given the high costs of running fleets of trucks and any shortage in shipping results in lost revenue, anything that can be done to make 18-wheelers more efficient will go a long way toward improving the economics of trucking. Autonomous technology could be the solution for both improving efficiency and addressing the lack of drivers.