Now hiring: Human drivers for robot trucks
Peter Brown | June 14, 2019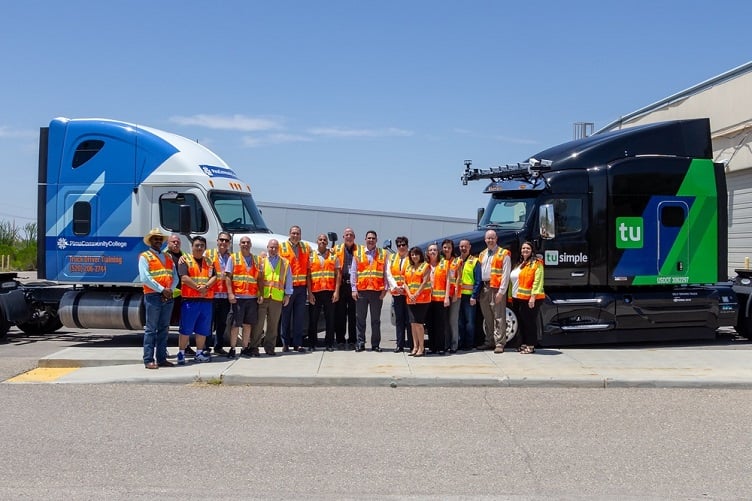 Students for the new program from TuSimple and Pima Community College. Source: Pima Community College
As the future of first-mile delivery logistics may reside in autonomous trucks, TuSimple is developing its own autonomous systems for 18-wheelers. The company is working with Pima Community College in Tucson, Arizona, to equip truck drivers with the knowledge and skills to expand their roles for the future of the trucking industry.
The Autonomous Vehicle Driver and Operations Specialist program will teach truck drivers how to operate and work with self-driving trucks in as little as one semester. The program requires a Class A Commercial Driver's License (CDL) prior to enrollment with the curriculum, which is comprised of five classes put together by TuSimple and Pima.
The program starts in September and TuSimple is looking to work with other schools interested in offering the same program. The certificate program is part of the U.S. Department of Transportation's (DOT's) study on the deployment of automated vehicle-related technology and its impact on the transportation workforce.
Meanwhile, Starsky Robotics is looking to hire its own experienced truck drivers to gain knowledge about how a traditional trucking company operates, according to Transport Topics. Starsky has 36 trucks that the company plans to test to determine how self-driving vehicles could improve the overall industry and what's needed from those trucks.
Autonomous trucks are considered a possible solution for addressing the driver shortage currently happening in the trucking industry as well as helping to improve safety. According to the American Trucking Association (ATA), the driver shortage could reach 175,000 by 2024 as it is becoming difficult to attract young people into the field and the current driver pool is aging out. The ATA said the industry is nearing a 100% turnover rate per year.
As the need for self-driving trucks becomes more apparent, academics and companies are looking to solutions for these vehicles, such as a flex-fuel model running on pure gasoline, pure alcohol or blends of these fuels. This could allow these vehicles to be more environmentally friendly but that travel the same distances as conventional diesel trucks.
While a number of startups are working toward the development of self-driving trucks, bigger companies are now getting involved with Daimler establishing its own autonomous trucking division and the United States Postal Service working with TuSimple on a pilot project for transporting packages between Arizona and Texas.