Self-driving truck startup begins freight deliveries in Texas
Peter Brown | August 08, 2019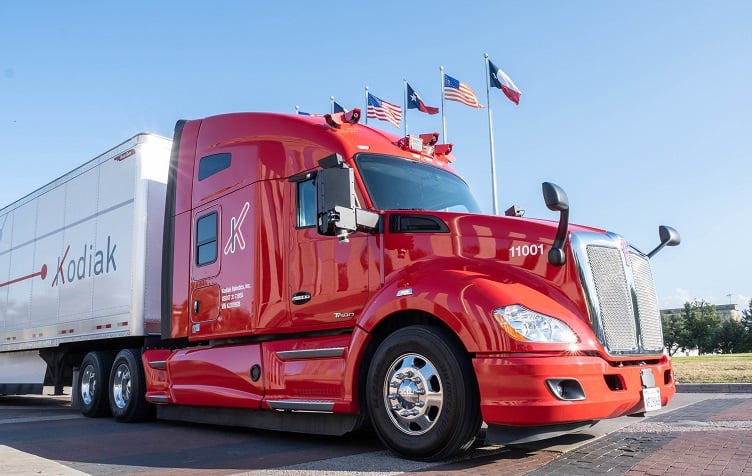 Kodiak will begin commercial shipping in Texas as part of a pilot project. Source: Kodiak Robotics
Kodiak Robotics Inc. has begun using self-driving vehicles for commercial deliveries in north Texas, albeit with a safety driver behind the wheel.
Self-driving trucks might be the next step in logistics as the trucking industry struggles with a shortage of drivers and a desire to improve safety. Autonomous trucks are one way to solve these issues because autonomous trucks can double daily operating hours compared to a human driver, and also bring down the cost of transportation and eliminate thousands of preventable accidents.
Kodiak also announced that it will be opening a new facility in Texas that will test and grow autonomous freight operations. The move to self-driving trucks comes just 16 months after the company was formed.
Kodiak is one of many startups and established companies looking to advance autonomous delivery trucks, given the driver shortage the rise in e-commerce shipping. Trucking start-up TuSimple has been working on its own fleet of trucks and seeking new human drivers who will ride along with the self-driving trucks after being trained with skills to interact with the machines.TuSimple is also working with the U.S. Postal Service in an experiment to ship packages and mail along a 1,000-mile stretch of road between Phoenix and Dallas.
Volvo has started a pilot project called Vera to develop autonomous, electric, commercial trucks that will be cleaner for the environment and enable round-the-clock shipping. Daimler Trucks North America has introduced the first SAE Level 2 automated truck in series production in North America.