Waymo and Daimler to build self-driving trucks
Peter Brown | October 30, 2020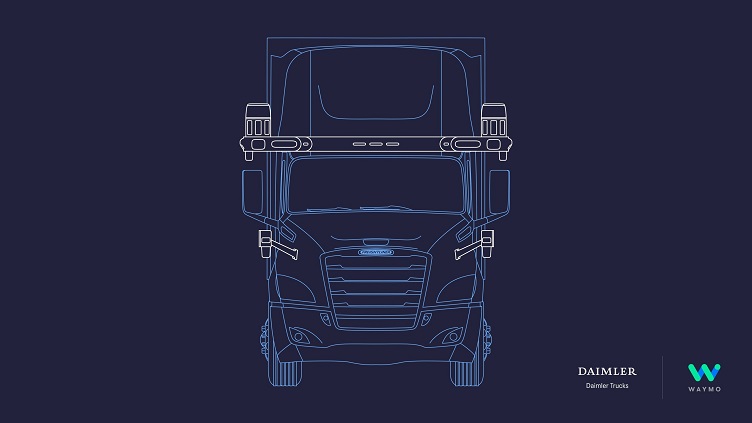 The Waymo and Daimler partnership will see Waymo's autonomous technology integrated into Daimler's Freightliner Cascadia truck. Source: Waymo
Daimler Trucks and autonomous driving technology vendor Waymo are partnering to deploy self-driving SAE Level 4 trucks for future transportation logistics operations.
The initial collaboration will combine Waymo's automated driving technology with a new version of Daimler's Freightliner Cascadia to enable autonomous driving. The self-driving Freightliner Cascadia truck with integrated Waymo Driver technology will initially be available in the U.S. market in the next few years but the companies plan to explore bringing the vehicles to other markets as well as other brands in the future.
Waymo has completed more than 20 million miles of public road testing across 25 U.S. cities and 15 billion miles in simulation. This includes pilot projects with UPS to shuttle packages in the metro area of Phoenix, Arizona, testing self-driving vehicles in the rain, development of self-driving taxis for deliveries in France and Japan, opening a autonomous car factory in Detroit and testing cars on public roads of California.
Daimler said with increased road freight volumes and the need and vision of fleet operators for highly automated trucks is driving this partnership to increase innovation, safety and improve efficiencies.
"In recent years, we have achieved significant progress on our global roadmap to bringing series-produced highly automated trucks to the road," said Martin Daum, chairman of the board of Daimler Truck AG and member of the board of management of Daimler AG. "With our strategic partnership with Waymo as the leader in autonomous driving, we are taking another important step towards that goal. This partnership complements Daimler Trucks' dual strategy approach, of working with two strong partners to deliver autonomous L4 solutions that are seamlessly integrated with our best-in-class trucks, to our customers."
Self-driving trucks are seen as the next step in first-mile shipping and logistics that will help address the nation's current truck driver shortage that has roughly 50,000 unfilled driver positions. That shortage is expected to grow to 175,000 by the mid-2020s, according to sources in the trucking industry. These autonomous trucks will also help with the increase in demand that is expected in the e-commerce industry, requiring more trucks on the road.
Automation will allow trucks to run all day and night with minimal effort from human drivers or people monitoring the trucks externally. Companies are now establishing educational training to guide skilled truck drivers in the use of autonomous truck technology.