Einride to provide Swedish grocery with electric, self-driving trucks
Peter Brown | April 22, 2020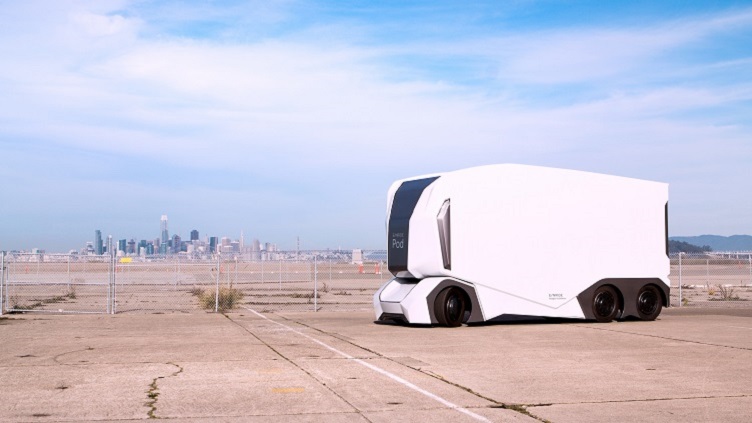 The Einride Pod that is being used for a variety of self-driving industrial use cases and will be used to create a new fleet of delivery trucks for Lidl, a Swedish grocery. Source: Einride
Einride is working on a long-term partnership with Swedish grocery chain Lidl to supply the company with electric trucks for sustainable freight transportation.
The transition to a zero-emissions transport network will take place in stages and focus mainly on electrification in the short term, with automation coming in the next phase. The first phase will begin in October of this year.
Robert Falck, CEO of Einride, told Engineering360 the goal is to have a fleet that is free of fossil fuels by 2025, starting with a limited number of vehicles but will ramp up over the next few years.
The current COVID-19 pandemic is another reason why the need for switching to electric and automation is important, Falck said.
"The ongoing pandemic and subsequent effects have made it clear that many of our systems are in need of a change to progress, and even to survive," Falck said. "Road freight is no exception, and must adapt to rapidly increase electrification and automation, not just as a business case, but to help prevent global emissions and air pollution from returning to previous levels or beyond."
The project will initially focus on the Stockholm region, where Lidl's central warehouse and stores are located and it will commence in the fall. The scope will later be expanded to include more regions of Sweden. At that point, a significant proportion of all Lidl transportation will take place with Einride electric vehicles as well as shipments being completed without a driver.
The Einride Freight Mobility Platform will be used to create the fleet of electric vehicles for Lidl that can handle the transportation of all types of vehicles but will focus specifically on electric vehicles with or without a driver. The platform collects data as well as automatically optimizes routes and schedules and serves as a digital interface to interact and communicate with driverless vehicles.
The need for driverless and electric vehicles in freight and logistics is considered a necessity for the future of the industry as the population of truck drivers is aging and there are not enough drivers to tackle the ever-growing needs of freight due to increased e-commerce demand. With the coronavirus impacting everyone and everything in the global economy, automation becomes even more important.
"The benefits of automating significant parts of global supply chains are clear, now more than ever given current circumstances," Falck said. "In short, removing the driver from the vehicle decreases unnecessary human contact, and makes social distancing more easily achievable for essential services like the transport of goods on our roads."
In addition to Einride, other startups such as Kodiak Robotics, Ike and TuSimple are working on their own platforms for self-driving trucks with the goal in mind to bring platforms to logistics fleets in the next few years. While many of these projects involve 18 wheelers, others are working on pods that can be interchangeable to fit whatever logistics are needed. Einride, for example, has developed pods that can be used to haul trees for the logging industry.
It is not just startups that are developing self-driving truck platforms. Daimler Trucks has invested in Level 4 autonomous driving technology and has recently acquired Torc Robotics in order to deploy automated trucks to global organizations. Volvo Group is also developing its own self-driving trucks using Nvidia's end-to-end artificial intelligence platform for training, simulation and in-vehicle computing for improved safety in autonomous vehicles on public roads and highways.