Self-driving truck startup forms safety partnership with insurance firm
Peter Brown | May 06, 2021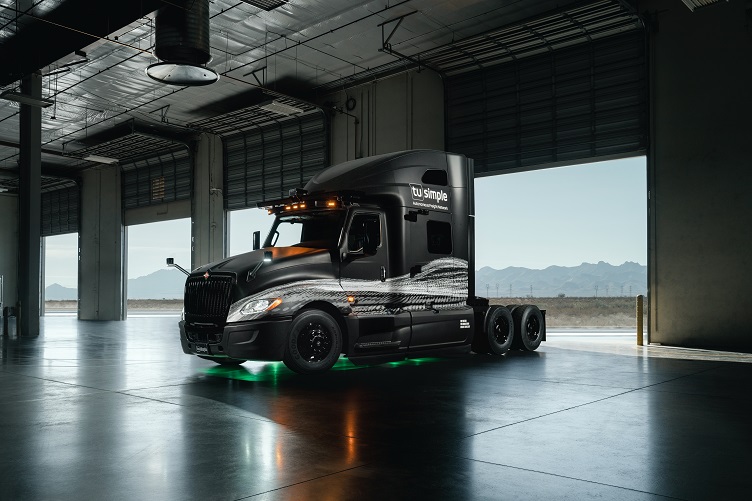 The partnership will address concerns about autonomous vehicle safety and increase confidence about autonomous trucking with advanced safety insights. Source: TuSimple
In a sign that autonomous trucking is moving closer to reality, TuSimple and Liberty Mutual Insurance have formed a partnership to assess comparative safety of self-driving trucks.
Trucking is notoriously a dangerous occupation. Autonomous technology has potential to help in this regard by removing human error. Additionally, self-driving trucks could help with the long-term needs in the middle-mile logistics industry, which is currently in a driver shortage with the current population of drivers aging out of the industry.
Autonomous trucks are seen as a way to solve these challenges because trucks without a driver can operate more than double the hours every day, bring down the cost of transportation and reduce the thousands of lives lost in preventable accidents every year.
The partnership will address concerns about autonomous vehicle safety and increase confidence about autonomous trucking with advanced safety insights. Additionally, the deal will help the companies get a better understanding of how self-driving technologies perform in comparison to the same types of trucks driven by human drivers.
"We believe the benefits of autonomous vehicles are powerful and will play a vital role in reducing the number of truck-related fatalities in the future," said Jim Mullen, chief administrative and legal officer at TuSimple. "Given most accidents are caused by distracted, impaired and fatigued driving—factors that are eliminated by autonomous trucks—we expect the data to reveal significant safety advantages when TuSimple's autonomous driving technology is applied."
TuSimple has been ramping up its testing of its autonomous platform, working with UPS and Penske Truck leasing to establish a self-driving freight network that will be launched commercially starting in 2024. The network will be rolled out in three phases until it extends throughout the lower 48 states.
As part of its safety and navigation requirements for self-driving trucks, TuSimple formed an agreement with Aeva to use its 4D lidar for better perception and 3D modeling of the environment around the truck.