Self-driving trucks are key to solving first-mile logistics challenges
Peter Brown | February 27, 2019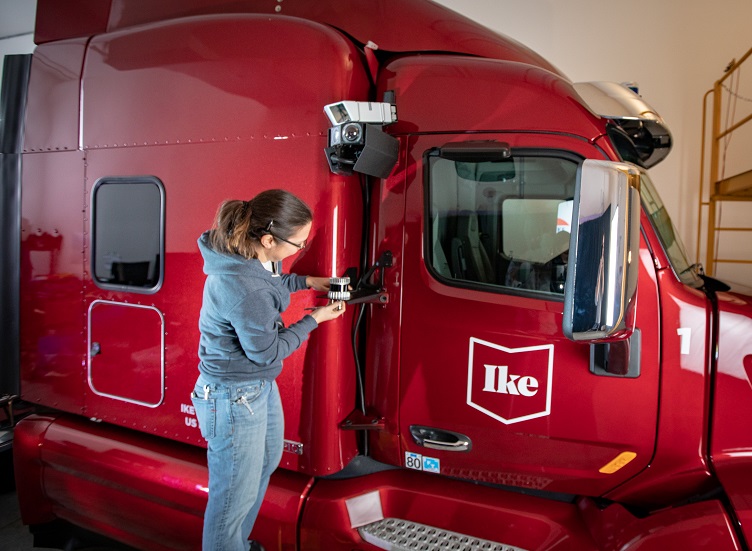 Ike plans to begin testing its autonomous trucks on public roads in the coming months. Source: Ike
The idea of self-driving cars started to emerge more than a decade ago when Google began testing the viability of the technology that would later go on to become Waymo, one of the leaders in developing autonomous technology.
Fast forward to today and it is hard to escape news regarding autonomous vehicles from literally every automotive OEM. Furthermore, because this is considered a new market inside the automotive space, a whole host of startups have emerged to try to grab a piece of the pie including software-only vendors, system-only vendors and full car developers.
While self-driving cars and so-called robo-taxis have been the flashiest, surprisingly the trucking market was relatively silent during the run-up. However, in November of 2017 Tesla announced it was developing a line of autonomous semi-trucks and it became a flashpoint for other vendors to ramp their own autonomous trucking projects. Shortly after, TuSimple, Thor Trucks and Nikola Motors announced their own plans for self-driving trucks.
Much like self-driving cars, since Tesla's announcement, the market has been flooded with announcements over the past year from both traditional OEMs and a range of new startups looking to take advantage of a new market -- Kodiak Robotics raised $40 million to develop a fleet of self-driving trucks backed by one of the founders of Otto (the now-scuttled autonomous trucking division of Uber), Hyundai completed its first autonomous truck journey in South Korea, Ike received $52 million in funding for its self-driving semi-trucks, Daimler Trucks North America introduced the first SAE Level 2 automated truck in series production in North America and TuSimple raised $95 million with plans to use the money to launch an autonomous fleet of more than 50 trucks by June of this year.
While most, if not all, of these projects involve Level 2 or Level 3 (partial autonomy) technology, it sets the stage for what will later become fully autonomous trucks. ABI Research forecasts that autonomous commercial vehicle shipments for SAE Level 4 (high driving automation) in the U.S. and Canada is expected to reach 16 percent by 2026 with SAE Level 5 (full automation) to be sub 2 percent by 2029.
"Over the road freight is one of the most important industries in our economy. Everything moves on a truck," said Nancy Sun, chief engineer and co-founder of Ike. "But the industry faces huge challenges. A shortage of drivers, new regulations, growing accident rates, the rise of e-commerce. And despite their importance, truck drivers are often overlooked, overworked, and put in harm's way."
Autonomous trucks are seen as a way to solve these challenges because trucks without a driver can operate more than double the hours every day, bring down the cost of transportation and reduce the thousands of lives lost in preventable accidents every year, Sun said.
Ike plans to have trucks operating on public roads "within the next few months" but Sun said the company is several years away from launching a real product that "creates repeatable commercial value." However, progress is being made because Ike is testing its technology on private tracks in order to get things right before an actuated vehicle gets put on the road.
Making economic sense
TuSimple is developing depot-to-depot autonomous trucking technology that will carry a truck through its entire journey. Source: TuSimpleOne of the main reasons for the rise in autonomous trucks is due to the current driver shortage. There are about 50,000 driver positions open and that is expected to grow to 175,000 drivers by the mid-2020s, said Chuck Price, chief product officer at TuSimple.
"Autonomous cars were sexy and an easy message to get out," Price said. "But for years we have believed that trucks are the most compelling economic argument."
This shortage represents lost revenue opportunities for fleets and at the same time shipping needs can't expand despite growth due to the rise in online shopping. Price said the median age of drivers in 2015 was 49 and in 2019 that median is growing to 55.
"The driver pool is aging out," he said. "We need a new solution."
The cost of building a fleet is very high and the operation of a fleet is a very high capital expense with thin margins. Price said a typical fleet makes at best 4 to 10 cents on a dollar because costs are so high. Reducing costs by improving 18-wheelers to be more efficient or even electric will go a long way toward improving the economics of trucking, Price said.
TuSimple, which recently was infused with $95 million in new capital, is developing autonomous systems that get put into 18-wheelers and is working with trucking OEMs and tech partners to make its first commercial cargo haul for money happening by 2020. TuSimple's autonomous technology will work from depot to depot—starting from initial loading, onto a surface street, to the highway, back to a surface street and to its final destination depot.
Pods will come later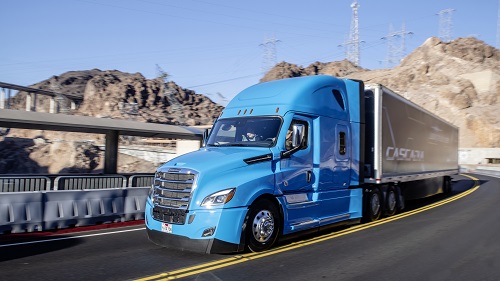 Daimler's Level 2 autonomous vehicle will be the first iteration of self-driving trucks on the roads but will pods come next? Source: DaimlerWhile 18-wheeler trucks are bound to be the first iteration of autonomous trucks on the road, already companies are pushing toward the next big thing in the form of pod-like vehicles that can be switched out for different uses—a logging vehicle, a freight hauler, an oil tanker and more.
Volvo introduced Vera last year billed as an all-electric, safer means of transportation that could be used for a variety of trucking needs by simply attaching the base to different cargo. Swedish startup Einride has also been pushing the pod concept with an all-electric vehicle that can be used as a log hauler or for fleet delivery.
While these are mostly prototypes and are very limited, as technology evolves and demands on shipping increase, these types of form factors may find a home. Susan Beardslee, principal analyst at ABI Research, said the pod form factor is a longer-term play in the market with much more work needed on the human-machine interface (HMI) before it can become a reality. However, she does see an early uptake in "trailers as a service" to reduce driver detention time, which can affect human hours of service (HOS).
The race to develop these pods for trucking will only increase as companies fear missing out on an opportunity and as the ability to leverage support for advanced driver assistance systems (ADAS)/autonomous technologies used in cars increases, Beardslee said.
TuSimple's Price agreed that the technology needs to develop before anything can be put on the road safely and 18 wheelers will be the short term solution people are looking for because it is a straightforward transition.
However, as companies learn what they can do with automation, the market will develop new ways to use the technology and see what kind of advantages can be garnered. Right now, however, trucks are limited by how long humans can drive and automated trucks do not mean "the entire service industry can be changed with automation," Price said.