British Army to test virtual reality training for soldiers
Marie Donlon | February 05, 2019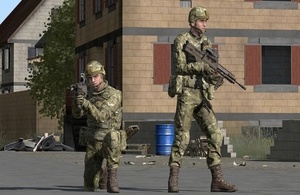 Screenshot of the simulated environment in the VR training. Source: Bohemia Interactive Solutions
The British Army announced that it will explore how to incorporate virtual reality (VR) into training its soldiers.
According to reports, the British Army has awarded software developer Bohemia Interactive Solutions a $1.3 million contract to develop military simulation and training software for the purpose of training soldiers in combat through the Virtual Reality in Land Training (VRLT) pilot. Initially, the British Army will test a handful of virtual reality applications, including high-resolution virtual reality headsets, avatars that can be customized to mimic identifiable body shapes and facial features, mixed reality allowing soldiers to interact with objects, and data analysis to assist soldiers in understanding their performance.
Using VRLT, soldiers can train under simulated hostile scenarios that would be difficult to mimic in reality, including dropping soldiers in the middle of an urban firefight, a complex crowd-control scenario or inside a structure where enemy soldiers dominate. Such scenarios can be repeated to analyze and determine what actions were most effective so that they can be duplicated on the battlefield.
According to spokesperson Brigadier Bobby Walton-Knight, head of training capability: "The Army has a reputation for world class training which prepares our people for demanding and complex operations. Our training continually develops and so we constantly look for the best technology to make it as effective as possible. Innovations such as Virtual Reality offer immersive and flexible training, and this pilot is pushing the boundaries to explore how we might make best use of it."
Following the VRLT pilot, which will occur for an unspecified time frame, the British Army is expected to weigh the benefits and effectiveness of virtual reality training to determine if the technology is suitable for training soldiers.
Like the British Army, the U.S. Army has also been exploring how to incorporate the latest in technology into assisting its soldiers. Recent reports said U.S. soldiers would be outfitted with tiny spy drones for reconnaissance purposes, and that the U.S. Army would attempt to attract new recruits using video games like Fortnite and Call of Duty.