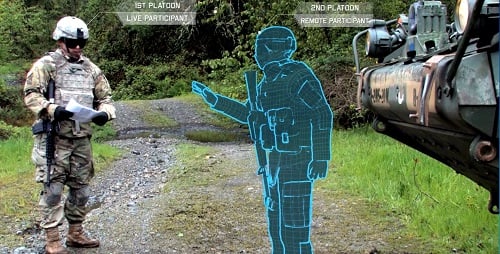 A Stryker Vehicle Commander interacts in real time with an avatar of a solider participating remotely from a collective trainer. Source: U.S. Army The U.S. Army is experimenting with using augmented reality as a means to better train soldiers linked with live training.
As part of the Army's Force 2025 and Beyond, a strategy to change and deliver land-power capabilities as an instrument of future joint force, the augmented reality system will be part of a new training environment that will be flexible, support repetition, reduce overhead and be available at the point of need.
The Army is working with the University of Southern California Institute for Creative Technologies and the Combined Arms Center-Training and Program Executive Office for Simulation, Training and Instrumentation to deliver the AR system called Synthetic Training Environment (STE).
STE uses a multi-echelon, mixed reality environment that provides immersive and intuitive capabilities for training. The system will move the Army away from facility-based training and instead to allow soldiers to train at the point of need — either at a home-station, combat training centers or deployed locations.
"Due to the rapidly expanding industrial base in virtual and augmented reality and government advances in training technologies, the Army is moving out to seize an opportunity to augment readiness," said Col. Harold Buhl, ARL Orlando and ICT program manager. "With STE, the intent is to leverage commercial advances with military specific technologies to provide commanders adaptive unit-specific training options to achieve readiness more rapidly and sustain readiness longer."
STE blends virtual, augmented and physical realities to provide training across active and dynamic mission complexities, according to the Army.
"This capability coupled with the immersive and semi-immersive technologies that bring all combat capabilities into the same synthetic environment, add to this quantum leap in training capability, the geo-specific terrain that STE will use in collaboration with Army Geospatial Center and you have the opportunity to execute highly accurate mission rehearsal of a mission and multiple branches and sequels," Buhl said.