Hydrogen is powering transportation everywhere
S. Himmelstein | April 21, 2021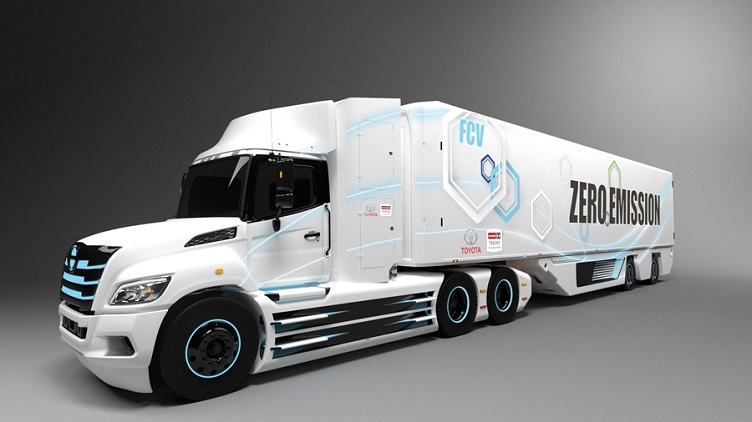 Toyota and Hino USA will jointly develop hydrogen fuel cell trucks to bring cleaner vehicles to logistics. Source: Toyota
Imagine a car, bus or truck that performs like a conventional vehicle with a 300 to 400 mile range, a fuel tank that can be filled up in three to five minutes, and emits zero emissions except for water vapor – that is today's fuel cell vehicle (FCV).
Fuel cells utilize hydrogen to produce electricity through a chemical process without combustion. The key benefits of hydrogen fuel for transport are that it offers similar refueling times and driving ranges as conventional fuels. Additionally, hydrogen infrastructure can be implemented in a similar fashion as conventional fuels at every gas station. When compared with battery electric vehicle (EV) charging, hydrogen requires no expensive and complex upgrades of the electrical grid or installation of chargers in every household. Having no internal moving parts, FCVs are also quiet and highly reliable.
While similar to batteries in that they produce electricity without combustion or emissions, fuel cells do not run down or need to recharge as long as there is a constant source of fuel and oxygen. Compared to conventional gasoline vehicles, FCVs can even reduce carbon dioxide by up to half if the hydrogen is produced by natural gas and by 90% if derived from renewable energy sources, such as wind and solar. There are also no pollutants emitted from the tailpipe — just water.
Here is a sampling of how hydrogen is fueling the future of mobility.
Since the introduction of its first-generation FCV in 2002, Honda has made significant technological advancements in vehicle operation in both hot and sub-freezing weather while meeting customer expectations and safety regulations. The Honda Clarity Fuel Cell sedan, offering a 366 mile driving range and three to five minute refueling time features a fuel cell stack that is 33% more compact than its predecessor with a 60% increase in power density.
Hydrogen also propels the Toyota Mirai, designed to deliver a 402-mile driving range with a next-generation fuel cell stack about 20% smaller and 50% lighter than the previous system. Compressed hydrogen fuel is stored in three 10,000-psi carbon-fiber-reinforced high-pressure tanks that together hold about 11 lb (5 kg) of hydrogen.
Hydrogen mobility is increasingly being extended to buses and trucks. Toyota Motor North American is partnering with Hino USA to jointly develop a Class 8 fuel cell electric truck for the North American market, and zero-emission hydrogen fuel cell-powered commercial vehicle supplier Hyzon Motors Inc. has launched leasing services for the provision of heavy-duty FCVs to customers in the European Union.
A fuel cell bus that can carry a large amount of hydrogen, portable external power output devices and portable batteries is now under development by Toyota Motor Corp. and Honda R&D Co. Ltd. The companies plan to use the system to deliver electricity anytime and anywhere the power grid is damaged after a disaster such as a typhoon, an earthquake, a hurricane or a rainstorm. And a long-range fuel-cell semi truck from Nikola Corp will reportedly travel as much as 900 miles on a tank of hydrogen when it comes out in 2024.
Next stop, hydrogen-powered trains. Canadian Pacific plans to develop North America's first hydrogen-powered line-haul locomotive through its Hydrogen Locomotive Program. A diesel-powered locomotive is slated to be fitted with six 200 kW hydrogen fuel cell modules from Ballard Power Systems.
In California, a hydrogen fuel cell switching locomotive will be developed by GTI and Sierra Northern Railway to support the Hydrogen Fuel Cell Demonstrations in Rail and Marine Applications at Ports (H2RAM) initiative. The $4 million locomotive project funded by the California Energy Commission will demonstrate the potential of hydrogen fuel cell technology to reduce transportation air pollutant and greenhouse gas emissions.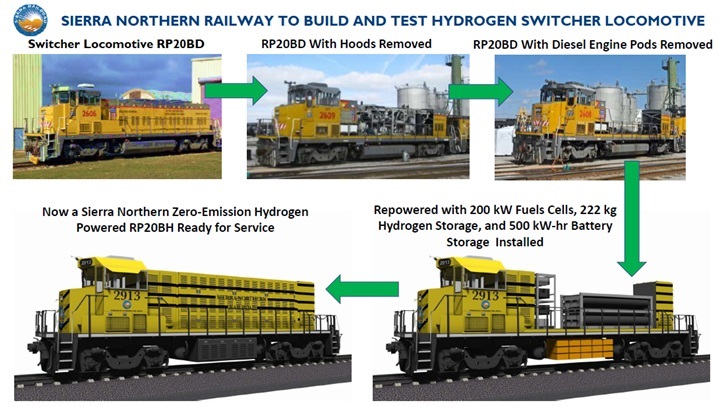 Source: Sierra Northern Railway
Powering passenger trains with hydrogen is also on the rise in Europe. The Coradia iLint, built by Alstom and traveling through Germany and Austria, claims to be the first passenger train in the world to run on hydrogen fuel cell technology. See the Coradia iLint in action in this video.
Equipped with hydrogen storage tanks, fuel cells and a battery pack, the HydroFLEX has been successfully tested as the first such train in the U.K. The onboard hydrogen power system produces sufficient energy to support a 75 mile train trip.
Cleaner mobility for ferries is also becoming a reality with the approaching commercialization of zero emissions marine vessel power. The Sea Change is slated to become the first commercial hydrogen fuel cell-powered zero emissions ferry in North America. Deployed around San Francisco Bay, the craft will operate with a powertrain designed by Golden Gate Zero Emission Marine and 360 kW proton exchange membrane fuel cells supplied by Cummins.
In France, a tug powered by two 200 kW proton exchange membrane fuel cells is being tested as it escorts barges around the docks in Lyon as part of the EU-funded Flagships project. The initiative also plans to deploy the world's first commercial cargo transport vessel operating on hydrogen, plying the river Seine in Paris, this year.
Hydrogen is emerging as a new energy carrier option for aviation. In September 2020, ZeroAvia, a developer of aviation decarbonization technology, completed the world's first hydrogen fuel cell powered flight of a commercial-grade aircraft. The hydrogen-fueled Piper M-class six-seat plane successfully took to the air, performed a full pattern circuit and landed in Cranfield, England. The company expects to achieve commercialization for its hydrogen-electric powertrain as early as 2024.
The Project Fresson consortium in the U.K. plans to deliver an emissions-free, hydrogen fuel cell-powered flying demonstrator by September 2022. Having completed a comprehensive evaluation of technologies and configurations for sustainable aircraft propulsion, the Fresson team concluded that hydrogen fuel cell technology is the optimum solution to meet environmental, regulatory and operational requirements for this size of aircraft, enabling zero carbon emissions and reducing operating costs.
Unmanned aerial vehicles (UAVs) are also taking to the air with hydrogen propulsion technology. Google, Amazon and Alibaba are experimenting with plans to launch delivery services using fuel cell-equipped drones. The success of such ventures could lead to low-carbon delivery systems with reduced reliance on road transport worldwide.
Boeing subsidiary Insitu recently completed the first flight of its ScanEagle3 UAV powered by an all-electric, hydrogen fueled, polymer electrolyte membrane fuel cell. The 30-minute flight confirmed initial performance characteristics including power output, climb rate and intrinsic aerodynamic flight characteristics for the UAV in preparation for test flights using a 3D-printed liquid hydrogen storage tank on the aircraft that are planned for later this year.
Globally, the hydrogen generation industry is predicted to grow to $201 billion by 2025 from $130 billion in 2020 at a compound annual growth rate of 9.2%, according to research from Markets and Markets. This growth is expected to lead to advancements across multiple sectors, most notably transportation, petroleum refining and steel manufacturing. Coupled with national and regional technology development initiatives, these trends portend a positive role for hydrogen on land, on the water and in the air.