First North American ferry to float with hydrogen fuel cells
S. Himmelstein | April 02, 2021
Port ecosystems in California are scheduled to be revamped with renewable power systems developed by Cummins. Projects are planned to install battery electric terminal tractors and Class 8 fuel-cell powered drayage trucks to transport goods from ships to warehouses. Cleaner mobility for ferries is also becoming a reality with the approaching commercialization of zero emissions marine vessel power.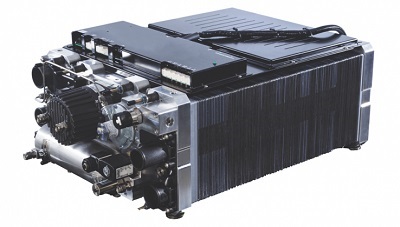 Source: Cummins
The Sea Change is slated to become the first commercial hydrogen fuel cell-powered zero emissions ferry in North America. Deployed around San Francisco Bay, the craft will operate with a powertrain designed by Golden Gate Zero Emission Marine and 360 kW proton exchange membrane fuel cells supplied by Cummins.
Owned by SWITCH Maritime, the Sea Change is expected to begin sea trials this year and will be able to attain speeds up to 22 knots. The fuel cells will be supplied with hydrogen from storage tanks creating electricity to run the electric motors and turn the vessel's propellers, generating the ferry's movement.