Cleaner tugboat service with hydropower and hydrogen
S. Himmelstein | April 08, 2020
While the sight of barges on the heavily-trafficked Rhone River in southern France is not unusual, the use of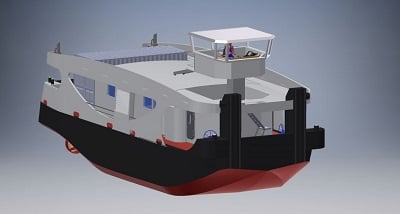 The fuel cell-powered push boat will operate in Lyon. Source: Flagshipshydrogen fuel cell-powered vessels to ply the waters between Marseille and Lyon may be a visible and sustainable mode of cargo transport. As part of the EU-funded Flagships project, a tug powered by two 200 kW proton exchange membrane (PEM) fuel cells will soon be tested as it escorts barges around the docks in Lyon.
Hydrogen for the fuel cells will be supplied by an electrolysis plant powered with electricity from one of the 11 hydroelectric power stations sited along the 276 km stretch between the two cities. The mobile fuel tank on the boat will have a 300 kg compressed hydrogen capacity, sufficient for tug operations for two weeks. Empty tanks will be transported by road to be refilled with compressed hydrogen at a station located just beside the dock area.
Ballard Power Systems is collaborating with ABB and other consortium partners in the Flagships project to develop and launch the zero-emission river push boat in 2021. Ballard will also furnish three PEM hydrogen fuel cells for a passenger ferry under construction in Stavanger, Norway, as part of the Flagships initiative.