Trains to locomote with hydrogen fuel cells
S. Himmelstein | March 10, 2021
Canadian Pacific plans to develop North America's first hydrogen-powered line-haul locomotive through its Hydrogen Locomotive Program. A diesel-powered locomotive is slated to be fitted with six 200 kW hydrogen fuel cell modules from Ballard Power Systems.
The fuel cells will deliver a total of 1.2 MW of electricity to power the locomotive and operate in concert with battery technology to power the locomotive's electric traction motors. The Ballard FCmove-HD heavy duty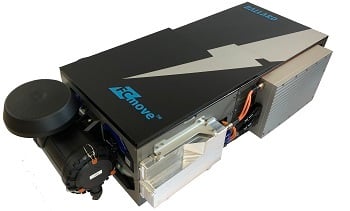 Source: Ballard Power Systemsfuel cell power module features better fuel economy, fewer maintenance requirements and lower total cost of ownership than previous product generations.
Ballard also has a role to play in delivering Scotland's first hydrogen-powered train. A purchase order has been placed from Arcola Energy, a U.K.-based leader in hydrogen and fuel cell integration specializing in zero-emission solutions for heavy-duty vehicles and transport applications, for these fuel cell modules. The units will power a passenger train planned for demonstration during the 2021 UN Climate Change Conference to be hosted by Glasgow City in November 2021. The project will convert a Class 314 car passenger train from ScotRail into a deployment-ready and certified platform for hydrogen-powered train development.