Watch: Paper-based Device Monitors Blood Metabolites
S. Himmelstein | September 15, 2018
Increased blood levels of the amino acid phenylalanine, characteristic of the genetic disorder phenylketonuria, require routine monitoring. Recognizing that the time delay incurred in sending blood samples to laboratories for analysis can complicate disease management, researchers from Max Planck Institute for Medical Research in Heidelberg, Germany, and École Polytechnique Fédérale de Lausanne, Switzerland, devised a simple paper-based assay that can measure concentrations of metabolites such as phenylalanine in small blood samples within minutes.
The new molecular tool for point-of-care applications is a light-emitting, engineered protein that changes its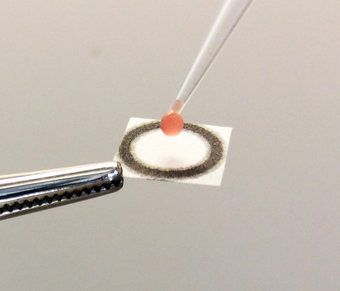 A mixture of blood and the reaction buffer is applied onto a paper covered with the immobilized biosensor. Source: Max Planck Institute for Medical Researchcolor in the presence of the reduced cofactor nicotinamide adenine dinucleotide (NADPH). NADPH is produced in an enzyme-catalyzed reaction specific for the metabolite of interest, and analysis of the emitted light's color reveals the metabolite concentration.
A blood droplet is added to a reaction buffer and applied onto a paper containing the immobilized biosensor. The light emitted by the sensor changes from blue to red when phenylalanine is consumed and NADPH is produced. The color shift is detected by a simple digital camera or a smartphone. The ratio of blue to red light is then used to calculate the concentration of phenylalanine. The 15 minute procedure generates accurate results when compared to standard methods used in clinical laboratories.
The sensor can be coupled with different enzyme-catalyzed reactions to establish quantitative point-of-care assays for glutamate, glucose and other metabolites.