Forensic chemist develops marijuana-detecting test strip for law enforcement
Marie Donlon | January 07, 2020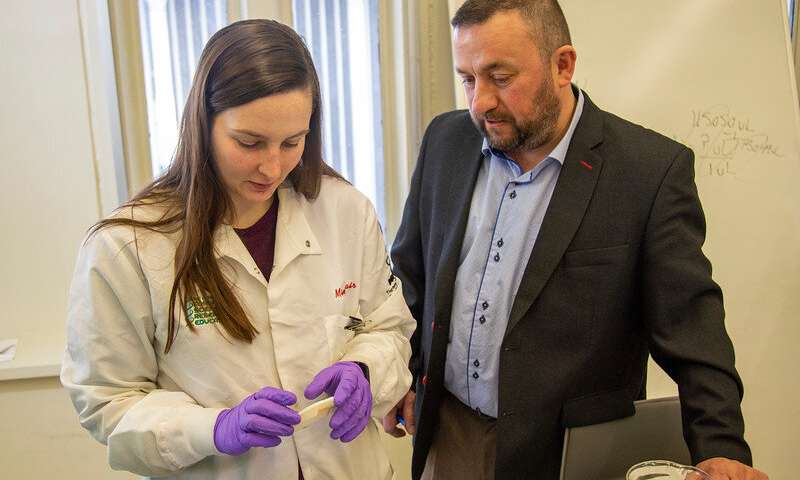 UAlbany forensic chemist Jan Halámek with graduate student researcher Mindy Hair. Source: Scott FreedmanA forensic chemist from the University at Albany (UAlbany) in New York has developed technology for detecting marijuana use based on small skin secretions.
Taken from fingerprints or other sweat glands, the skin secretions subtly change a test color strip in response to the presence of tetrahydrocannabinol (THC), which is the primary psychoactive component in marijuana plants.
To determine the effectiveness of the color strip test, researchers tested eight volunteers — four of whom were marijuana users and four of whom were not. The researchers collected the participant's fingerprints on plastic wrap and in the lab used an antibody to quantify the THC metabolite. Higher levels of THC metabolite in the sample reportedly resulted in a slight color change and that subtle change was obvious among the samples collected from the group of marijuana users, according to researchers.
The work builds on research from the same UAlbany lab led by forensic chemist Jan Halámek who had developed a similar color-changing test strip for alcohol detection. Instead of responding to the presence of THC, however, that color-changing test strip instead detected blood alcohol content by measuring the presence of ethanol in sweat.
Because the test strips are non-invasive, the team envisions that they might be used as a component in portable roadside test kits administered by law enforcement to detect marijuana-impaired driving. Currently, there are no reliable roadside marijuana test kits in use by law enforcement.
The research appears in the journal ACS Sensors.