Wearable skin sensors that analyze sweat
Marie Donlon | August 19, 2019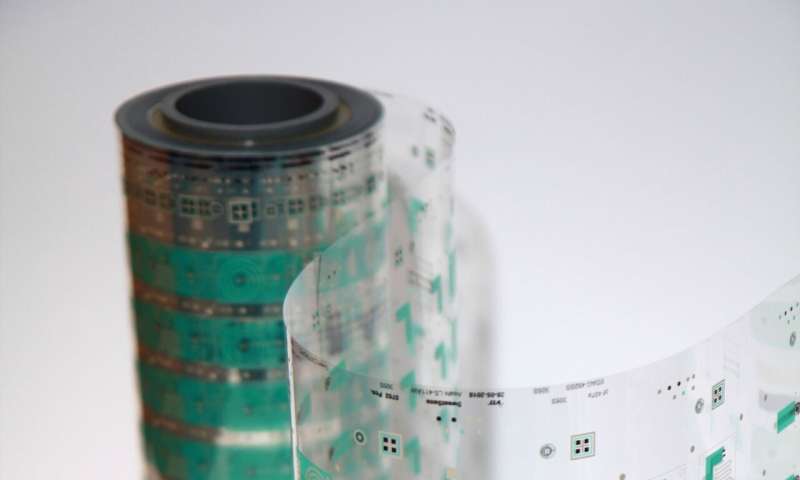 The sensors developed can provide real-time measurements of sweat rate and electrolytes and metabolites in sweat. The sensors can be quickly manufactured using a roll-to-roll processing method that prints the sensors onto a sheet of plastic. Source: Antti Veijola, VTT Technical Research Center of Finland
Scientists from the University of California, Berkeley, have developed wearable skin sensors that detect what is in the wearer's sweat, revealing the real-time health of the individual.
The team devised sensors that can monitor sweat rate and electrolytes and metabolites present in perspiration. The scientists equipped the sensors with spiraling microscopic tubes, otherwise known as microfluidics, which wick sweat from the user's skin. The sensors track how quickly the sweat travels through the microfluidics, which is a measurement of how much a person is sweating, or their sweat rate. The microfluidics also contain chemical sensors that detect electrolytes like sodium and potassium, as well as metabolites like glucose.
Researchers demonstrated how the sweat sensors worked by applying them to parts of volunteers' bodies, including their forearms, foreheads, upper backs and underarms. While the participants rode exercise bikes, researchers measured sweat rates as well as the sodium and potassium levels. Researchers discovered that local sweat rate measurements could reveal the human body's total liquid loss in real-time, suggesting that it might offer athletes a way to determine if they are pushing themselves too hard, for instance.
"Traditionally what people have done is they would collect sweat from the body for a certain amount of time and then analyze it," said Hnin Yin Yin Nyein, a graduate student in materials science and engineering at UC Berkeley and one of the lead authors of the paper. "So you couldn't really see the dynamic changes very well with good resolution. Using these wearable devices we can now continuously collect data from different parts of the body, for example to understand how the local sweat loss can estimate whole-body fluid loss."
Following development of the sensors, the scientists teamed up with researchers from the VTT Technical Research Center of Finland to manufacture sensor patches using a roll-to-roll processing approach that prints sensors onto sheets of plastic. According to the collaborators, the roll-to-roll processing approach enables high volumes of the patches to be produced at low cost.
The team continues to test the sensors and hopes that they might one day replace blood-based measurements for diagnosing and monitoring diabetes, fatigue or dehydration.
The research appears in the journal Science Advances.