The LHC Successfully Accelerated Its First Atoms
S. Himmelstein | July 30, 2018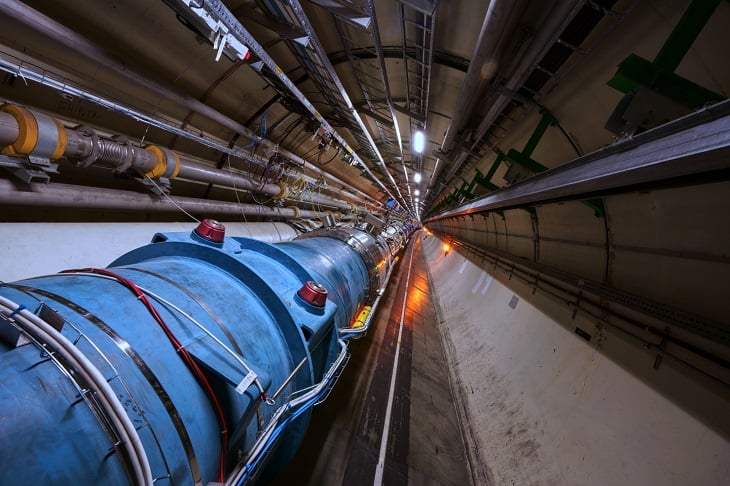 During a special one-day run, LHC operators injected lead "atoms" containing a single electron into the machine. Source: Maximilien Brice/Julien Ordan/CERN
The Large Hadron Collider (LHC) produces a steady stream of proton–proton collisions under normal operating conditions, then smashes together atomic nuclei for about four weeks just before the annual winter shutdown. Occasionally, accelerator physicists at CERN try something new in efforts to broaden the facility's applications. Previous initiatives in this vein included accelerating xenon nuclei in the LHC and testing other kinds of partially stripped lead ions in the Super Proton Synchrotron accelerator.
Recently, operators injected not just atomic nuclei but lead atoms containing a single electron into the LHC, as a proof-of-principle test for a new idea called the Gamma Factory, part of CERN's Physics Beyond Colliders project.
In the envisioned gamma ray factory, scientists would shoot the circulating atoms with a laser, causing the electron to jump into a higher energy level. As the electron falls back down, it spits out a particle of light which is ordinarily not very energetic, but because the atom is traveling at close to the speed of light, the energy of the emitted photon is boosted and its wavelength is squeezed (due to the Doppler effect).
These gamma rays would have sufficient energy to produce normal matter particles. Because matter and energy are two sides of the same coin, these high-energy gamma rays would possess sufficient energy to generate quarks, electrons and muons. They could even morph into new kinds of matter, such as dark matter, or serve as the source for new types of particle beams, such as a muon beam.
During the special LHC run, 24 bunches of atoms were injected, resulting in a low-energy stable beam inside the LHC for about an hour. The system was then ramped up to its full power and maintained the beam for about two minutes before it was ejected into the beam dump. The researchers explained that the LHC automatically dumps the beam if too many particles go off course.
Another attempt was made after running the magnets through the restart cycle. Only six bunches were injected but the beam was kept circulating for two hours and then intentionally dumped.
The researchers will next try to maintain this beam lifetime at a higher intensity by optimizing the collimator settings, which were still set-up for protons during the special run.