The accomplishments posted during 2017 by researchers at Conseil Européen pour la Recherche Nucléaire (CERN), or European Council for Nuclear Research, star in this video.
ISOLDE -- Isotope mass Separator On-Line facility – has marked its 50th year of operation in support of nuclear physics research. The system is a unique source of low-energy beams of radioactive nuclides, those with too many or too few neutrons to be stable and permits the study of the vast territory of atomic nuclei, including the most exotic species.
CERN-MEDICIS started producing isotopes for medical research. MEDICIS (Medical Isotopes Collected from ISOLDE) aims to provide a wide range of radioisotopes, some of which can be produced only at CERN thanks to the unique ISOLDE facility. These radioisotopes are destined primarily for hospitals and research centers in Switzerland and across Europe.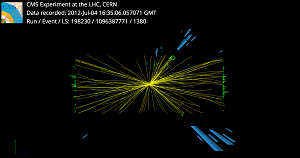 A collision event recorded by CMS in 2012 and available in the latest release of CMS Open Data. File for visualization prepared by Tom McCauleyCERN also set a new record in data storage with 12.3 petabytes in one month, and The Compact Muon Solenoid (CMS) Collaboration at CERN made public around half of the data collected in 2012 by the CMS detector at the Large Hadron Collider. This release includes sets used to discover the Higgs boson, and is being shared through the CERN Open Data portal.
Baby MIND, a 75-ton neutrino detector prototype for a Magnetized Iron Neutrino Detector (MIND), was tested and is being shipped to Japan. Its goal is to precisely identify and track positively or negatively charged muons – the product of muon neutrinos from the T2K (Tokai to Kamioka) beam line, interacting with matter in the WAGASCI neutrino detector, in Japan. The more detailed the identification of the muon that crosses the Baby MIND detector, the more we can learn about the original neutrino, in view of contributing to a more precise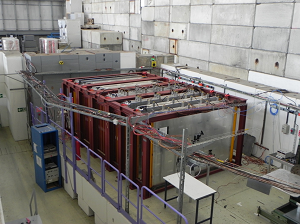 Baby MIND under test on the T9 beamline at the Proton Synchrotron experimental hall, summer 2017. Image: Alain Blondel/University of Genevaunderstanding of the neutrino oscillations phenomenon.
The first anti-proton beam was generated for ELENA (Extra Low ENergy Antiproton) deceleration ring. And ALPHA reports first observation of the hyperfine structure of antihydrogen. The ALPHA experiment is a successor of an earlier antimatter project, ATHENA, and is designed to make, capture and study atoms of antihydrogen and compare these with hydrogen atoms.