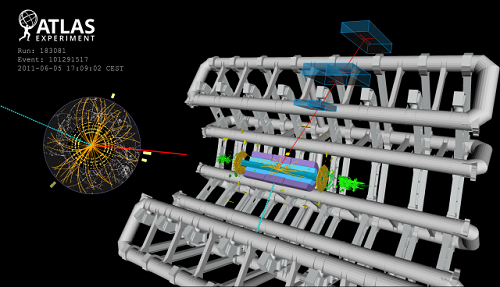 Display of a candidate event for a W boson decaying into one muon and one neutrino from proton-proton collisions recorded by ATLAS with LHC stable beams at a collision energy of 7 TeV. Source: CERN
The first high-precision measurement at the Large Hadron Collider (LHC) of the mass of the W boson has been reported by researchers participating in the ATLAS (A Toroidal LHC ApparatuS) experiment. This is one of two elementary particles that mediate the weak interaction — one of the forces that govern the behavior of matter in our universe. The reported result gives a value of 80370±19 MeV for the W mass, which is consistent with the expectation from the Standard Model of Particle Physics, the theory that describes known particles and their interactions.
The measurement is based on around 14 million W bosons recorded in a single year (2011), when the LHC was running at the energy of 7 TeV. It matches previous measurements obtained at LEP, the ancestor of the LHC at CERN, and at the Tevatron, a former accelerator at Fermilab in the U.S., whose data made it possible to continuously refine this measurement over the last 20 years.
The W boson, one of the heaviest known particles, is of particular interest because it is one of the main ingredients in the scientific equation that predicts the mass of the Higgs boson.
The research is published in European Physical Journal C.