U.S. Energy use by fuel type from 1776-2016. Source: EIA
U.S. Environmental Protection Agency (EPA) Administrator Scott Pruitt issued a Notice of Proposed Rulemaking (NPRM) on October 10 proposing to repeal the so-called "Clean Power Plan (CPP)."
The agency said in a statement that after reviewing the CPP, it wants to determine that the Obama-era regulation exceeds the EPA's statutory authority. It says that repealing the CPP will facilitate the development of U.S. energy resources and "reduce unnecessary regulatory burdens associated with the development of those resources."
(Read "Luminant to Close 1,800 MW Coal-fired Power Plant.")
The CPP was issued under Section 111 of the Clean Air Act (CAA). The CPP required regulated entities to take actions "outside the fence line." The EPA says that Section 111 rules previously were based on measures that could be applied to, for and at a particular facility, also referred to as "inside the fence line" measures. Because the CPP departed, in Pruitt's view, from this limit on EPA's authority, his agency is proposing to repeal it.
The EPA sent the Notice of Proposed Rulemaking to the Federal Register for publication. Upon publication, the public will have 60 days to submit comments.
An End to the 'War on Coal'?
The EPA action, among others, is seen by some as an effort by the Trump administration to end the so-called "war on coal." Rules promulgated over a number of years under authority of the Clean Air Act have required the installation of costly and sometimes cumbersome emission control equipment on coal-fired power plants.
Still others suggest, however, that any war on coal ended at least five years ago as natural gas rose in prominence as a fuel for electric power generation. Stable prices and supplies, along with operating efficiencies and streamlined maintenance profiles, were primary among the advantages favoring natural gas over coal-fired generation.
(Read "Siting Board OKs Gas-fired Power Plants in Coal Country.")
As older, smaller, less efficient coal-fired units were taken out of service because the economics did not favor installing emission control equipment on them, they were replaced by natural gas units. Many of the first units to fill the generating gap had been built in the 1990s during a wave of overbuilding natural gas-fired resources. More recently, however, power producers have tended to select natural gas technologies for new power generating resources.
For example, in May, Michigan-based DTE Energy, one of the Midwest's largest coal-based electric power generators, announced plans to cut the company's carbon emissions by more than 80 percent by 2050. The company says the reduction and 2050 timeframe align with the target scientists broadly have identified as necessary to help address climate change.
(Read "Once a Coal Giant, DTE Plans a Shift to Gas and Renewables.")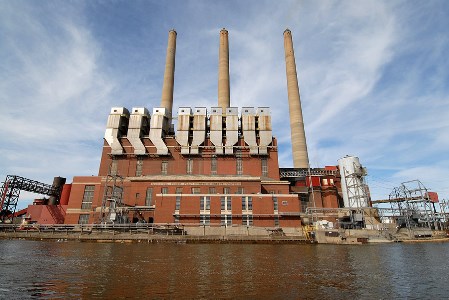 The 350-megawatt Otto E. Eckert Station is operated by the Lansing (Mich.) Board of Water & Light and is slated to close in 2025.The company says it will achieve its targeted reductions by incorporating "substantially" more renewable energy, transitioning its power sources from coal to natural gas, continuing to operate its zero-emission Fermi 2 nuclear power plant and strengthening options for customers to save energy and reduce bills.
Automation Simplifies Operations
As maintenance-intensive coal-fired power plants — chock full of rotating equipment and leak-prone pipes and valves, not to mention conveyer belts and coal ash handling equipment — are retired, they are being replaced to a large extent by gas-fired units that make full use of sensors, predictive maintenance software and automated control systems.
Gas-fired power plants can operate with a fraction of the staff once required for coal-fired units.
As a result, the extensive use of analytics and automation within natural gas-fired power plants means that staffing levels can be cut to a fraction of what they were a decade ago.
Worry has grown, however, that the nation may be growing too dependent on one fuel for electric power generation.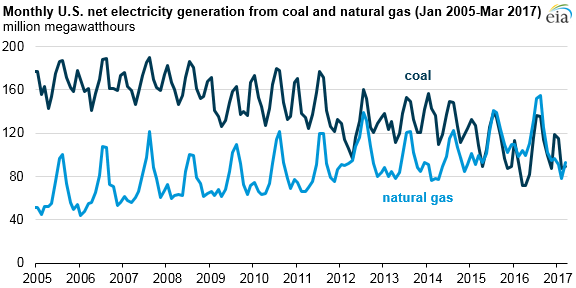 Natural gas use has grown as a fuel for electric power generation. Source: EIAThe U.S. Department of Energy released its 187-page "Staff Report to the Secretary on Electricity Markets and Reliability" on August 23. It assesses the status of wholesale electricity markets, considers whether coal-fired and nuclear power plants are being adequately compensated for their role in grid reliability and addresses the extent to which regulation and policies that favor renewable energy resources may be forcing the early retirement of base load power plants.
"The recent and unprecedented rise of natural gas as a top electricity generation resource, the increase in VRE penetration, the flattening of electricity demand growth, and a host of policy issues — regulations, mandates and subsidies at the state and Federal levels — have negatively impacted traditional baseload generation, particularly coal and nuclear power plants," the report says.
The report says that while power plants retire for a variety of reasons, "the biggest contributor to coal and nuclear plant retirements has been the advantaged economics of natural gas-fired generation."