The U.S. Department of Energy released its 187-page "Staff Report to the Secretary on Electricity Markets and Reliability" on August 23. It assesses the status of wholesale electricity markets, considers whether coal-fired and nuclear power plants are being adequately compensated for their role in grid reliability, and addresses the extent to which regulation and policies that favor renewable energy resources may be forcing the early retirement of baseload power plants.
The report notes that in 2016, for the first time, natural gas replaced coal as the leading source of electricity generation in the U.S. It also says that in 2015, a "record-high amount of generating capacity" retired.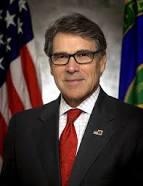 Energy Secretary Rick PerryIn releasing the report, Energy Secretary Rick Perry said, "It is apparent that in today's competitive markets certain regulations and subsidies are having a large impact on the functioning of markets, and thereby challenging our power generation mix." He called on policy makers to "consider their intended and unintended effects."
The study identified several issues that it says are central to protecting the long-term reliability of the electric grid.
Market Challenges
First, it says that the evolution of wholesale electricity markets, including the extent to which federal policy interventions and the changing nature of the electricity fuel mix are challenging the original policy assumptions that shaped the creation of those markets.
The report says that although centrally organized markets have achieved "reliable wholesale electricity delivery with economic efficiencies in their short-term operations," changing circumstances have challenged both centrally organized and, to a lesser extent, vertically integrated markets.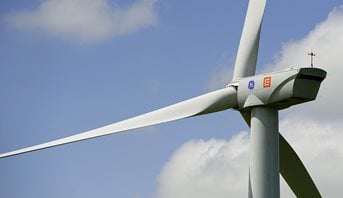 Wind energy resources have grown in recent years, placing pressure on traditional power plants. Those markets have withstood a number of stresses. The report says that markets are currently functioning as designed—to ensure reliability and minimize the short-term costs of wholesale electricity—despite pressures from flat demand growth, federal and state policy interventions, and what it calls the "massive economic shift" in the relative economics of natural gas compared to other fuels.
"The resulting low average wholesale energy prices, while beneficial for buyers of wholesale electricity, represent a critical juncture for many existing baseload generation resources and their role in preserving reliability and resilience."
The report says that market designs may be "inadequate" given potential future challenges. In particular, it says that variable renewable energy (VRE) resources will lower wholesale energy prices independent of effects of the current low natural gas prices. The report says that this would put additional economic pressure on revenues for traditional baseload (as well as non-baseload) resources, requiring "careful consideration of continued market evolutions."
The report also says that markets need further study and reform to address future services essential to grid reliability and resilience. It says that system operators are working toward recognizing, defining and compensating for resource attributes that enhance reliability and resilience (on both the supply and demand side).
"However, further efforts should reflect the urgent need for clear definitions of reliability and resilience-enhancing attributes and should quickly establish the market means to value or the regulatory means to provide them."
Baseload Cycling Challenges
The report says that evolving market conditions and the need to accommodate VREs have led to the increased flexible operation of generation and other grid resources. Some generation technologies originally designed to operate as baseload were not intended to operate flexibly, and in nuclear power's case, do not have a regulatory regime that allows them to do so.
Generation from VREs can change over the course of a day, which requires dispatchable power plants to be operated more nimbly, the report says. In some areas of the country, there may be over-generation from VREs at some times during a day, which drives prices to almost zero yet requires quick-ramping assets when VRE generation subsides.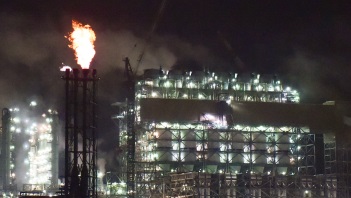 Mississippi Power's Kemper County clean coal plant was shelved as it faced pressure from low-cost natural gas."Taken together, these trends have placed a premium on flexible output rather than the steady output of traditional baseload power plants." This flexibility is generally provided by generation resources. "However, nongeneration sources of flexibility—such as flexible demand, increased transmission and energy storage technologies—are being explored as ways to enhance system flexibility," the report says.
The report says that society places a value on attributes of electricity beyond those compensated by the current design of the wholesale market. However, "most of these benefits are not recognized or compensated by wholesale electricity markets," which it says has given rise to a variety of state and private efforts that include keeping open or shutting down established baseload generators and incentivizing VRE generation.
Adequate Compensation?
The report also considers whether wholesale energy and capacity markets adequately compensate attributes such as onsite fuel supply and other factors that may strengthen grid resilience and, if not, the extent to which this could affect grid reliability and resilience in the future.
Fuel assurance is a growing consideration for the electricity system, the report says. "Maintaining onsite fuel resources is one way to improve fuel assurance, but most generation technologies have experienced fuel deliverability challenges in the past."
While coal facilities typically store enough fuel onsite to last for 30 days or more, extreme cold can lead to frozen fuel stockpiles and disruption in train deliveries. Natural gas is delivered by pipeline as needed. Capacity challenges on existing pipelines combined with the difficulty in some areas of siting and constructing new natural gas pipelines, along with competing uses for natural gas such as for home heating, have created supply constraints in the past.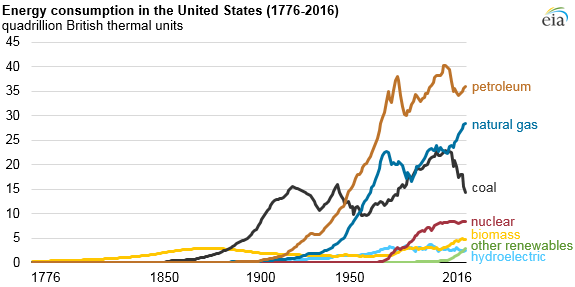 A view since 1776 of energy use in the United States. Credit: DOE Energy Information Administration."Supply constraints can create increased price risk and, in extreme cases, could impact reliability," the report says.
The report says that recent severe weather events have demonstrated the need to improve system resilience. "The range of potential disruptive events is broad, and the system needs to be designed to handle high-impact, low probability events."
Planning, practice, and coordination on an all-hazards basis and having a mix of resources and fuels available when a major disturbance occurs are both essential to fast response, the report says.
"Work still remains to identify facilities that merit hardening; stage periodic exercises and drills so that governmental agencies and utilities are prepared for emergencies; and ensure that wholesale electricity markets are designed to recognize and incentivize investments that would achieve or enhance resilience related objectives," it says.
The report says that while "significant progress" is already being made to understand what is needed to maintain power system reliability under changing market conditions, more work is needed to understand what can be done to maintain resiliency as the grid changes over the coming years.
The increased use of natural gas for electricity generation "has made exposure to natural gas price risk related to availability a growing concern in several regions," the report says.
"It is important that policymakers have a clear understanding of the true costs and benefits of services to the grid, as well as an understanding of the tradeoffs between desirable attributes like reliability, flexibility, and affordability."
Is Regulation Forcing Closures?
A third area addressed in the report considers the extent to which "continued regulatory burdens, as well as mandates and tax and subsidy policies," are responsible for "forcing the premature retirement" of baseload power plants such as coal and nuclear facilities.
"The recent and unprecedented rise of natural gas as a top electricity generation resource, the increase in VRE penetration, the flattening of electricity demand growth, and a host of policy issues—regulations, mandates and subsidies at the state and Federal levels—have negatively impacted traditional baseload generation, particularly coal and nuclear power plants," the report says.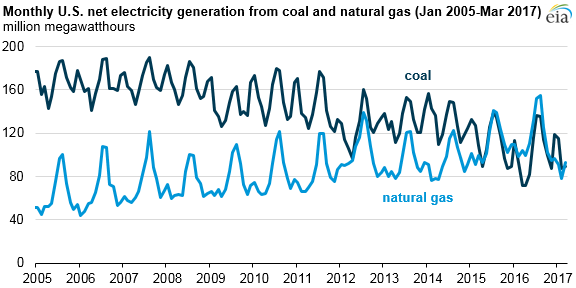 Data from the Energy Department shows natural gas gaining ground over coal since 2005. The report says that between 2002 and 2016, 132,000 MW of generation capacity retired—representing about 15% of the total 2002 installed base—and 390,500 MW of new capacity was added.
The report says that while power plants retire for a variety of reasons, "the biggest contributor to coal and nuclear plant retirements has been the advantaged economics of natural gas-fired generation."
Low-cost, abundant natural gas and the development of highly-efficient natural gas combined cycle power plants resulted in a new baseload competitor to the existing coal, nuclear and hydroelectric plants. In 2016, natural gas was the largest source of electricity generation in the United States—overtaking coal for the first time since data collection began.
"The increased use of natural gas in the electric sector has resulted in sustained low wholesale market prices that reduce the profitability of other generation resources important to the grid," the report says. "The fact that new, high-efficiency natural gas plants can be built relatively quickly, compared to coal and nuclear power, also helped to grow gas-fired generation."
It says that production costs of coal and nuclear plants remained somewhat flat, while new and existing, more flexible, and relatively lower-operating cost natural gas plants drove down wholesale market prices to the point that some formerly profitable nuclear and coal facilities began operating at a loss.
Flat-line Demand Growth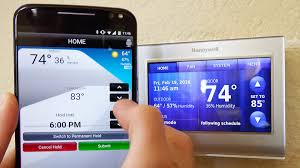 Energy efficiency is helping to keep electricity demand growth near zero. Another factor contributing to power plant retirements is "low growth in electricity demand." The report says that growth of total electricity use has slowed from averaging 2.5% annually in the late 1990s, to an average of 1.0% annually from 2000 to 2008, to a roughly flat line since then.
The report says that changes in electricity demand—particularly the apparent decoupling of economic output and electricity demand—have been driven in part by energy efficiency policies. "The combination of slow growth in electricity demand and the 390,500 MW of capacity additions from 2002 to 2016 made significant amounts of older, higher-cost capacity redundant," the report says.
The report also says that since 2007, the contribution to total generation from wind and solar has grown quickly, accelerated by government policies and mandates. State renewable portfolio standards (RPS) have been the largest contributor—associated with 60% of VRE growth since 2000—followed by federal tax credits and government research. Because these resources have lower variable operating costs than traditional baseload generators, they are dispatched first and displace baseload resources when they are available, the report says.
Negative Impacts of Regulation
Investments required for regulatory compliance have also "negatively impacted" baseload plant economics, and the peak in baseload plant retirements correlated with deadlines for power plant regulations as well as "strong signals of future regulation."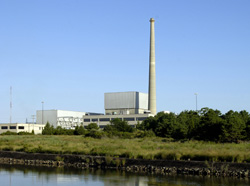 The Oyster Creek nuclear station is one generating asset facing adverse market conditions. The report says that a suite of environmental regulations scheduled for implementation between 2011 and 2022 has had varying degrees of effects on the cost of generation. For example, the largest number of coal plant retirements occurred in 2015—the deadline for coal and oil plants to add pollution control equipment for Mercury and Air Toxics Standard (MATS) compliance.
Also in 2015, the Environmental Protection Agency (EPA) finalized its Clean Power Plan, which, if fully implemented, would place additional pressure on coal-fired generation, the report says.
Nuclear power plants also face regulatory costs, principally the Cooling Water Intake Rule. Three nuclear plants that announced closure (Oyster Creek, Diablo Canyon and Indian Point) have cited disputes with their respective states, who implement the rule, as among the reasons for plant retirement, the report says.
"Ultimately, the continued closure of traditional baseload power plants calls for a comprehensive strategy for long-term reliability and resilience," the report says. States and regions are accepting increased risks that could affect the future reliability and resilience of electricity delivery.
Hydropower, nuclear, coal and natural gas power plants provide fuel assurance critical to system resilience, the report says. "A continual comprehensive regional and national review is needed to determine how a portfolio of domestic energy resources can be developed to ensure grid reliability and resilience."