Wanted: 800 MW Plant to Replace Closing Nuke
David Wagman | April 03, 2017
Consumers Energy says it is looking to acquire a natural gas-fired generating plant of up to 800 megawatts to replace the electric capacity and energy currently provided by the Palisades nuclear plant.
In December 2016, Entergy and Consumers Energy agreed to end the existing contract with the Palisades nuclear plant in 2018. The 800 MW pressurized water reactor from Combustion Engineering entered service at the end of 1971.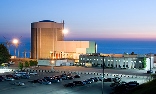 Palisades nuclear station in Michigan.Entergy said that given the financial challenges its merchant power business faces from sustained wholesale power price declines and other unfavorable market conditions, "we have been evaluating our portfolio of assets and reviewing financial projections to determine their retention, sale or closure."
In addition to the Palisades closing, Entergy in March completed the sale of its James A. FitzPatrick nuclear station to Exelon.
Consumers says that the contract termination is subject to Michigan Public Service Commission approval and could cut customer costs by $172 million.
The company says it is interested in buying a simple-cycle or combined-cycle generating plant currently operating in Michigan's Lower Peninsula.
The original purchase power agreement committed Consumers Energy to buy nearly all of the power that Palisades generates through April 2022. If regulators approve the deal, the agreement termination date will move to May 31, 2018.