Deal for Palisades Nuclear Plant Is Scrapped
David Wagman | September 28, 2017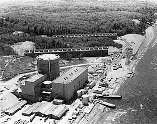 Palisades nuclear station.
Entergy Corp. says it plans to operate the 811 megawatt Palisades Power Plant in Covert, Mich., until the spring of 2022, under an existing Power Purchase Agreement (PPA) with Consumers Energy.
The Michigan Public Service Commission on September 22 granted Consumers Energy recovery of $136.6 million out of the $172 million it requested to buy out the PPA. As a result, the companies agreed to end the buyout.
The announcement reverses Entergy's December 2016 decision to close Palisades on Oct. 1, 2018. Entergy says it remains committed to exiting the merchant nuclear power business.
In April, Consumers Energy said it was looking to acquire a natural gas-fired generating plant of up to 800 megawatts to replace the electric capacity and energy currently provided by the Palisades nuclear plant.
The Palisades Power Plant employs about 600 workers and began generating electricity in 1971. The plant has a single Combustion Engineering pressurized water reactor and a Westinghouse Electric Co. supplied turbine generator.
In April 2007, the plant was sold to Entergy for $380 million. Its original license was due to expire in 2011, but an application for a 20-year extension was filed in 2005 with the Nuclear Regulatory Commission. The extension was granted in 2007, extending the operating license to 2031.