Outsourcing danger: The robots tasked with dangerous jobs
Marie Donlon | May 13, 2022
The robots are coming! The robots are coming! The resounding chorus continues to warn of a day when everything we do will be outsourced to automation. And although the mania surrounding the declaration can sometimes seem unnecessarily heightened, it does not change the fact that, yes, indeed the robots are most certainly coming.
But what are they coming for?
Initially, robots are being rolled out in factory and manufacturing settings to take on various redundant tasks such as moving objects autonomously from Point A to Point B. As such systems become more sophisticated, so too do their capabilities, making them more appropriate for even more challenging tasks.
And what's more challenging than those tasks considered too dangerous for humans to be performing? Follow along with Engineering360 as we look at the dangerous jobs that are now being outsourced to robots.
Firefighting bot
The Los Angeles City Fire Department (LAFD) has leveraged technology that enables robots to fight fire. The so-called Thermite RS3 Firefighting Robot is a remotely operated robot that flows 2,500 gallons of water per minute, assisting with safe interior fire operations on large commercial fires, wood-frame structures under construction, structural defense during wildfires, animal rescues, fuel tanker fires, auto storage fires and more.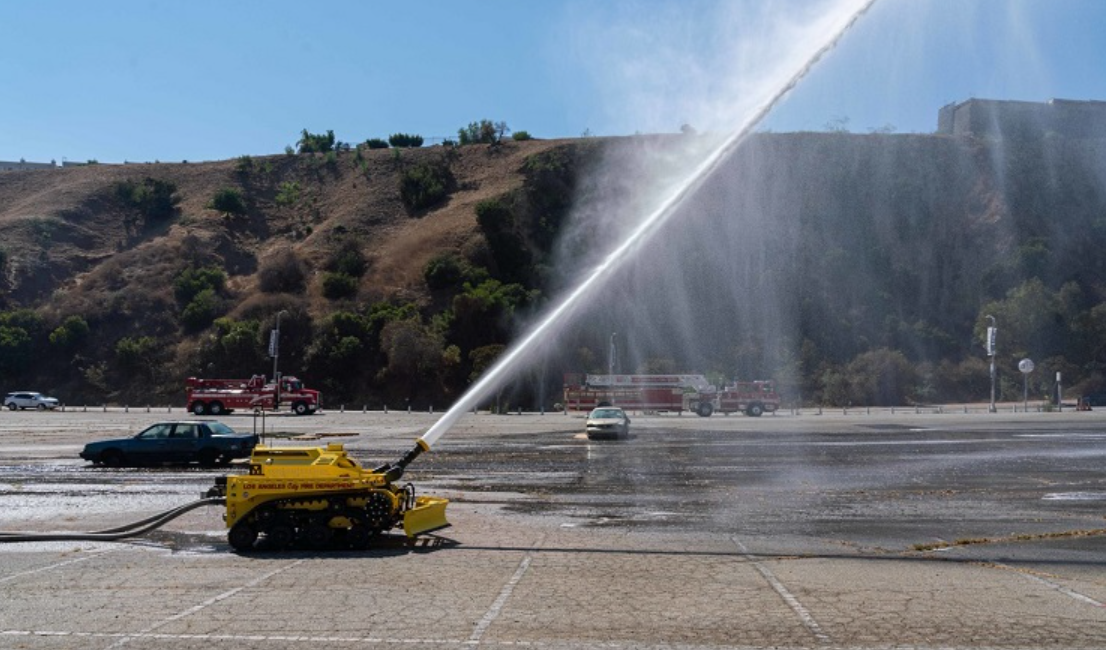 Source: LAFD
Weighing 3,500 lb, the Thermite RS3 has a top speed of 8 mph, features a front plow blade to maneuver debris or vehicles and it can operate for 20 hours without refueling.
According to the LAFD, this robot could potentially help to reduce risk to human lives.
Mine detonation bot
The U.S. Marine Corps now employs an underwater robot for locating and neutralizing explosive hazards such as mines.
The Explosive Ordnance Disposal (EOD) Remotely Operated Vehicle (ROV) is a box-shaped robot that features ranging sensors, sound navigation and an articulating arm for removing seaweed as well as disarming explosive devices.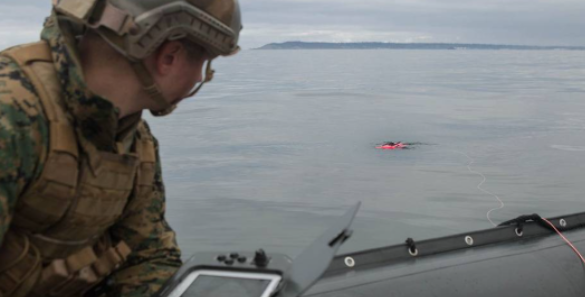 Source: U.S. Marine Corp
Additionally, the EOD ROV captures high definition video of shallow underwater environments and offers real-time feedback to divers.
According to the U.S. Marine Corps, the robot keeps divers from conducting potentially dangerous missions and it can also be used for reconnaissance applications in the future.
Construction bot
Researchers from Purdue University have developed a construction robotic system that promises to expedite building construction while reducing risk to construction workers' safety.
The system, which features a robotic arm and custom end effector, is driven by advanced computer vision sensing technology, allowing the automation of certain construction site tasks.
According to the research team, the system would limit the number of human workers and the amount of equipment necessary on a construction site. Instead, the system allows for construction materials to be placed and fastened into the end effector and computer vision algorithms enable the bot to sense those building components and match them according to the building information modeling (BIM) data.
According to the Purdue team, the system can take over those tasks while simultaneously tracking obstacles and safety hazards on the site.
Cop bot
Routine traffic stops can sometimes be a danger to law enforcement and drivers, due to passing vehicles or in extreme cases a situation that turns violent. As a possible solution to such dangers, Reuben Brewer, a senior robotics engineer at SRI International, a nonprofit research institute, has developed a police robot that can approach drivers and issue tickets without human police officers leaving their patrol cars.
The robot "can't hurt or be hurt," according to reports. It attaches to the patrol vehicle and wheels itself toward a stopped vehicle. The robot is outfitted with a screen that displays a human officer's face, which enables communication with the driver via webcam, and it is able to scan a driver's license and generate a ticket. These instruments are mounted on a retractable arm to better interact with stopped drivers. The robot can also deploy road spikes in the event the driver attempts to flee. All this occurs while the human officer remains seated safely in a patrol car.
Window-washing bot
A team from Canada's Simon Fraser University has developed a robotic window and building façade cleaner.
Currently, high-rise window and building cleaning tasks are carried out by human workers. The patent-pending robot mimics the motions of human window washers without risking their safety.
Source: Simon Fraser University
According to the developers, the robots are three times faster, more efficient and safer than current human high-rise window and building façade cleaners. Additionally, the robots can reportedly wash even the most complicated building designs while withstanding high winds and extremely cold temperatures, both of which tend to be a challenge for human workers.
The robot, which will soon be trialed on buildings in Vancouver and Toronto, could potentially fill an ongoing labor shortage that window cleaning contractors are experiencing due to the physically demanding and potentially dangerous nature of the work.
Snake venom extracting bot
A robot developed by researchers from Ben M'sik Hassan II University in Casablanca, Morocco, extracts venom from scorpions.
The patented VES-4 is a lightweight and portable machine designed for use both in the lab and out in the field for milking scorpions of their venom.
According to the patent, the machine autonomously holds down the scorpion's tail and applies an electric current to produce droplets of venom, which are collected in an Eppendorf tube situated below the scorpion.
The VES-4 is expected to automate the dangerous task of milking scorpions of their venom, which has reportedly proven effective as an immunosuppressant and as an antimalarial drug. Additionally, venom from the Deathstalker scorpion reportedly attaches itself to cancer cells, lighting up tumors when mixed with a fluorescent dye.
In addition to eliminating the risk involved in manually extracting scorpion venom, the researchers suggest that the machine would also reduce the amount of manual labor that goes into extracting just one gallon of venom — which would, according to the researchers, require the milking of 2.64 million scorpions.
Check back with Engineering360 for the latest on automation, robots and other emerging technologies designed to keep humans safe.