A New Method to Extract Scorpion Venom
Abe Michelen | July 05, 2017
Scorpion venom is an important ingredient in medical applications such as cancer research, anti-malaria drugs and in immunosuppressants. A new extraction method could replace the traditional manual methods that are potentially life-threatening.
A team of university researchers from Ben M'sik Hassan II University in Casablanca, Morocco has designed a special robot to milk the venom from scorpions. "This robot makes venom recovery fast and safe," says team member Dr. Mouad Mkamel. "The extraction of scorpion venom is a very difficult task and usually takes at least two experimenters," says Mouad. "There are numerous risks including potentially deadly scorpion stings and electric shocks from the stimulators used to extract the venom."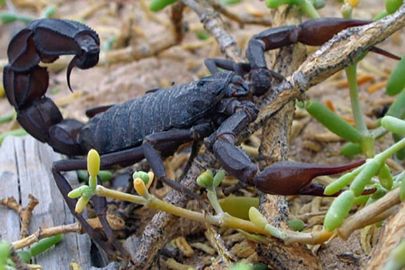 A scorpion. Credit: Ben M'sik Hassan II University
Current methods for extracting venom include electrical stimulation by hand, mechanical stimulation or puncturing of the venom gland and abdominal removal, the latter of which kills the scorpion. The new robot, called the VES-4® device, is a lightweight and portable robot that can be used both in the lab and the field."[VES-4] is designed to extract scorpion venom without harming the animal and to provide more safety for the experimenters," explains Professor Mkamel. "[It] could be used by one person using a remote control to safely recover scorpion venom remotely," he adds. This VES-4 milks the scorpion by clamping the tail of the animal and electrically stimulating it to release the venom, as shown below.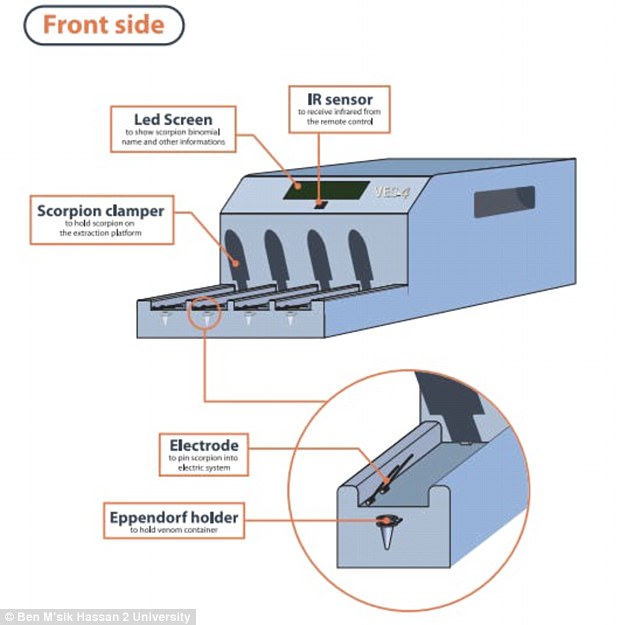 Robot for milking scorpion venom. Credit: Ben M'sik Hassan II University
Scorpion venom has a number of important medical uses and has been studied as a powerful pain killer. In 2013 researchers also found that the grasshopper mouse is equipped with a protein that stops its activity when stung by a scorpion. These findings could lead to the development a new drug for humans.
Researchers from the Fred Hutchinson Cancer Research Center used scorpion venom to develop "tumor paint" to detect the exact location of cancer cells. The method used scorpion venom attached to natural toxins to pinpoint cancerous growth.
Scorpion venom is effective in preventing organ rejection in transplant patients without the severe side effects present in traditional immunosuppressant drugs. It has also been tested as a medium to prevent bone loss, benefiting rheumatoid arthritis and osteoarthritis patients. Finally, in 2011 a researcher from the University of Maryland found that scorpion venom is an effective tool to attack the malaria parasites found in certain mosquitoes.