GEFA double offset butterfly valve for cryogenic applications
Diana Aoun | May 06, 2022
GEFA has revealed its new type HGC butterfly valve in the double offset design, suitable for use with cryogenic media. The HGC can be used in temperatures as low as -328° F (-200° C) with an integrated cryogenic stem extension as a pressure chamber. The valve features reliable sealing against high pressures, low wear switching characteristics, and enables efficient and safe automation with the GEFA-MULTITOP interchangeable flange.
The HGC double offset butterfly valve is designed with a spherical sealing surface on the disc which allows switching with minimum wear and offers the highest level of tightness and low torques simultaneously. The insert ring of the body efficiently protects the seat ring from direct medium flow and prevents wear such as erosion and abrasion, thus extending service life.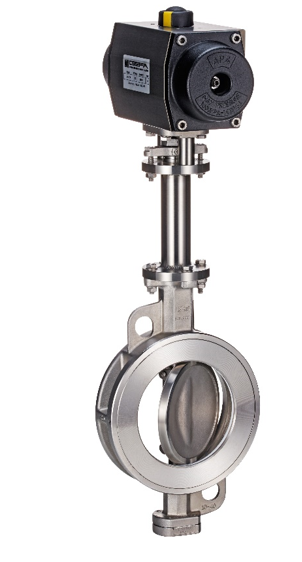 Source: GEFA
In terms of automation, the HGC comes with a standard mounting flange in accordance with EN ISO 5211 and enables direct actuator mounting without interruption to the stem. The actuator itself is protected against leakage and stem sealing can be re-tensioned beneath the mounting flange, enabling readjustment without dismounting the actuator.
The HGC comes with centering aids for all flange sizes which facilitates easy and precise mounting while the axial centering of the stem can be reached easily for service. In addition, the clamping sleeves guarantee a clearance-free connection between the mounting flange and the body and transfer the driving torques.
The cryo version HGC valve has a temperature range of -328° F to 392° F (-200° C to 200° C) and is suitable across a wide range of industries and applications including water and sewage, the food industry, chemicals, petrochemicals, the pharmaceutical industry, as well as in coloring and dyeing factories.