Neles reveals its next generation of high-performance butterfly valves – The Neldisc L-series, Model D
Diana Aoun | July 05, 2021
Flow control solutions specialist Neles recently launched its new generation of Neldisc L-series butterfly valves, the Model D, featuring the L6, LW and LG triple eccentric disc valves. This latest offerings from Neles deliver nearly equal percentage characteristics for superior performance and tightness in both control and shut-off applications.
The unique triple offset geometry of Neldisc valves enables excellent flow characteristics and high capacity. Mechanically induced contact between disc and seat means the valve does not rely on assistance from differential pressure. The heavy-duty arrangement of stem and bearings are unaffected by thermal cycles and fluids impurities, contributing to extended valve operating life.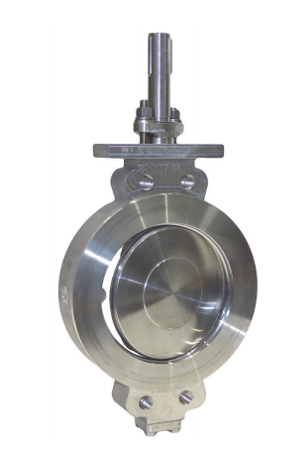 Source: NelesThe new series feature interchangeable modules for a wide range of applications, improving flexibility and minimizing spare parts requirements. Neles also offers through shaft and drive shaft with trunnion options, as well as live load packing which comes standard to minimize product loss and emissions.
The new Neldisc range is available in double flange (L6), wafer (LW), and lug-body (LG) types with a variety or materials and seat combinations available to suit a range of applications. The lugged and double flange style valves are suitable for bidirectional dead-end service at full pressure and temperature ratings (as standard).
The interchangeable seat can be replaced without the need for disc and shaft disassembling and does not require any special tools. The solid metal seat design contributes to lower operational torque, resulting in smaller actuator size requirements.
The new Neldisc butterfly valve range comes with ISO 15848-1 emission certification as well as API 607 fire safe certification. An anti-blowout design option is available whereby valves are equipped with retainer plates on top of the gland to prevent shaft movement past the gland in the event of shaft breakage.
The new Neles Neldisc L-series is available in sizes DN 80 – 300 (NPS 3 – 12 inches), pressure classes PN 10 – 40 (ASME 150 and 300) and can operate within a wide temperature range of -50° C to 600° C (-46° F to 1,112° F).