Small robot hand delicate enough to handle snail eggs
Marie Donlon | October 20, 2021
Researchers from Ajou University and Sungkyunkwan University in South Korea have created a tiny, soft robotic hand that can both clutch objects without damaging them while simultaneously measuring their temperatures.
Like most human hands, the gripper features five fingers, each of which measures a little more than half a centimeter in length and roughly eight times the width of a human hair. According to the researchers, the gripper fingers are led by muscles composed of a shape memory polymer that alters its shape when electricity is introduced and subsequently rebounds when electricity is removed. Additionally, each of the five fingers also features tiny sensors that are capable of measuring heat, vibrations and pressure.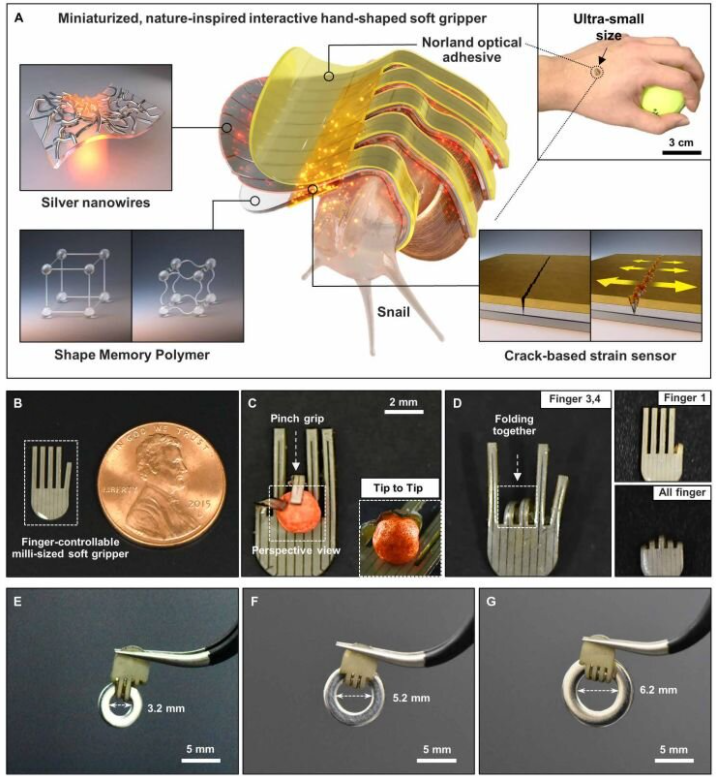 Schematic illustrations and images of a miniaturized hand-shaped soft gripper. (A) Schematic illustration of the milliscale soft gripper with variable stiffness for measuring biosignals of a living organism. (B to D) Photographs of the milliscale soft gripper, tip-to-tip gripping using the thumb and middle finger, and selective folding of digits for various finger positions. (E to G) The soft gripper selectively grips the object using fingers depending on the object size. Source: Science Robotics (2021). DOI: 10.1126/scirobotics.abi6774
When tested, the team determined that the simultaneously gentle yet strong robotic hand could open tiny bottles and cradle delicate salmon eggs. Likewise, the robotic hand, weighing just 25.4 milligrams, proved capable of also cradling heavier objects weighing as much as 30 grams.
Additionally, researchers demonstrated that the robotic hand could cradle snail eggs, keeping them warm by administering small amounts of heat until they hatched, and measuring the heart rate of the newly hatched snail. Also in the lab, the researchers demonstrated that the hand could handle a blood vein in a live pig without halting blood flow.
Such demonstrations suggest that the technology, according to the researchers, could enable doctors to use the device to eventually maneuver tissue in human subjects.
The study, Vital signal sensing and manipulation of a microscale organ with a multifunctional soft gripper, appears in the journal Science Robotics.