Wearable Robotic Tools for Minimally-invasive Surgery
Engineering360 News Desk | March 15, 2017
The European Union is funding the development of a wearable robotic system for minimally invasive surgery, also known as keyhole surgery. The system will offer surgeons natural and dexterous movement, as well as the ability to 'sense,' 'see,' control and safely navigate through the surgical environment.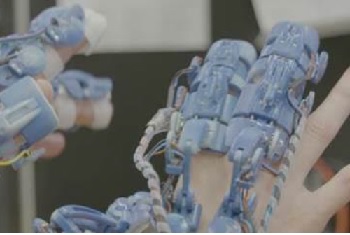 Exoskeleton prototype. Source: UWE BristolThe collaborative project, based at the University of Bristol, includes participants from several University research centers. Professor Sanja Dogramadzi of the Bristol Robotics Laboratory is the team leader.
System development will start with three key pieces of hardware. The first piece, exoskeletons that fit over a surgeon's hands, form a gripper that mimics a hand's thumb and fingers. The system will focus on providing haptic feedback on the fingers of the surgeon as well, unlike existing haptic systems that focus on a user's hand and forearm.
The exoskeletons will control the robotic tools inside the body by communicating the fingers' positions. The goal is to allow surgeons to use their fingers naturally, as they do in conventional open-incision surgery, which will reduce training time.
The third piece of hardware is a set of smart multifunctional glasses that will relay images from inside the body.
The research team intends to focus on robotic surgical procedures in urologic, cardiovascular and orthopedic fields. They plan to use rapid prototyping to incorporate expertise and feedback from senior surgeons, creating user-centered designs.
"We hope our research into designing this wearable system will help to expand the range of surgical procedures that can use robotic assisted systems so that more patients and hospitals can gain the benefits from this type of surgery," Dr. Dogramadzi said.