Robot hand from KIMM can handle eggs, scissors
Marie Donlon | February 10, 2020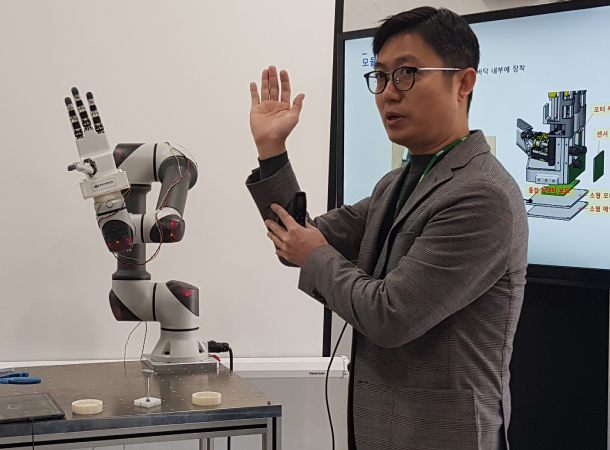 A researcher at KIMM demonstrates how the robot hand moves like a human hand, grabbing objects like eggs and scissors. Source: YONHAPResearchers from the Korea Institute of Machinery & Materials (KIMM) have built a robotic hand that can handle objects that humans encounter daily such as scissors or eggs.
Designed to be mounted on a robotic arm, the robotic hand mimics the movements and tactile sensing of human hands via a combination of multi-axis force torque sensors and skin-type tactile sensors. The sensors are built into the robotic hand, which is composed of four fingers and 16 joints. Each finger is powered by 12 motors, enabling them to move independently.
Setting the robot hand apart is that it is lighter, roughly 1 kg, and stronger, capable of handling payloads over 3 kg, than other robotic hands in development.
The KIMM team envisions that the robotic hand will be appropriate for use in industrial settings.