Rollable ribbon fiber-optic microcables for metro networks
Engineering360 News Desk | September 29, 2021
OFS, a developer of innovative fiber optic network solutions, has expanded its microcable product line with the RollR200 central core (CC) rollable ribbon microcable. These microcables feature 432 optical fibers in a gel-free central core design optimized for microduct installations. This latest-generation cabling solution can help take metro networks to the next level with increased fiber density, enhanced performance and speed of deployment.
The RollR200 CC microcable capitalizes on OFS' advancement in rollable ribbon technology. To form these ribbons, individual 200 micron fibers are partially bonded to each other at predetermined points, which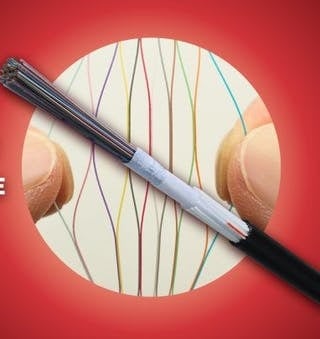 Source: OFSenables the benefit of mass fusion splicing capabilities in a significantly smaller cable diameter to maximize fiber density in congested networks. Mass fusion splicing capability helps to simplify installation and save on splicing time and labor costs.
The cable design features a central core tube construction with helical strength elements for improved handling and installation capabilities. Specifically designed for air-blown installation using microduct systems, the rifled outer jacket reduces cable friction during installation to increase installation lengths. In addition, the RollR200 CC microcable's greater fiber density can help to expand the capacity of existing pathways using smaller, lower-cost duct systems.