Three new cable solutions available from Belden
Engineering360 News Desk | March 09, 2020
Belden Inc., a provider of signal transmission solutions for mission-critical applications, is offering three new products to enhance data transmission for emerging technology.

To offer a new cable option for high-density, high-data-rate environments that rely on fiber for data transmission, Belden unveils its FiberExpress flexible ribbon cable, designed to support the new DCX Optical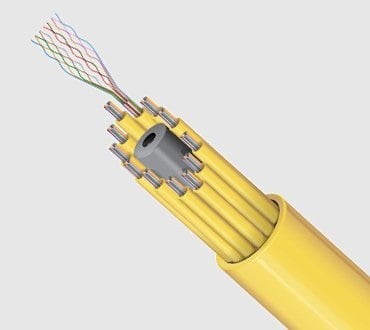 Flexible ribbon cable. Source: BeldenDistribution Frame system. Relative to cable size, flexible ribbon cable provides the highest connectivity density to make every square foot count. Its small outer diameter and flexibility make it easier and faster to handle, creating installation possibilities in narrow pathways and small conduit. The ability to terminate multiple fibers at once — with sorting and ribbonization already completed — reduces labor resources and costs.

As ships turn into mini connected smart cities, emerging wireless and power over Ethernet (PoE) application requirements are being adopted to meet growing guest and staff demands for constant connectivity. DNV GL certified category cables carry the type approval required for data communication cable installation on DNV GL-classed maritime vessels, including passenger ships. They support in-cabin technology such as passenger Wi-Fi, high-bandwidth IPTV, PoE lighting and device charging stations. Cables are available in category 5e, 6, 6A and 7 shielded constructions.

To support building owners as they meet the needs of growing numbers of people and devices utilizing their networks, low loss ½ in coaxial cables for wireless transmission — designed to support distributed antenna systems — provide strong signal strength and minimal interference. In environments where people expect constant uptime with no hiccups or delays, the cables boost revenue and satisfaction levels. A practical solution for in-building wireless applications, they feature low attenuation, low-voltage standing wave ratio and low passive intermodulation. They are also tested, qualified and recommended by JMA for compatibility with its wireless connectivity.