Video: Fast, reliable cable installation with fiber optic splice closures
Engineering360 News Desk | January 02, 2021
Fiber optic cable manufacturer AFL has launched the Apex family of fiber optic splice closures designed to lower overall installation time with easier to use sealing and cable retention methods. The Apex closure line is engineered to improve usability, decrease installation time, increase network reliability and increase density of fiber splices, especially when coupled with high-density MicroCore cable and wrapping tube cable powered by SpiderWeb Ribbon from AFL.
Field installers and engineers can perform 1,728 splices inside of a 20 in long dome or 3,456 splices inside a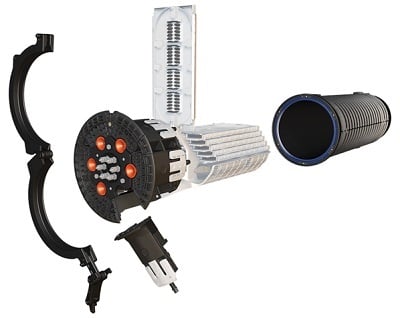 Source: AFL25 in long dome. With an easy-to-use wedge-based gel sealing system, installation time is drastically decreased as network reliability increases.

The initial launch of Apex splice closures includes the X-2 and X-2S sizes, which have maximum capacities of 1,728 and 3,456 fibers, respectively, when using 200 µm SpiderWeb Ribbon. Additional sizes with lower and higher capacities will be available in 2021.
The Apex splice closures are ideal for applications including enterprise/campus local area networks, all-dielectric self-supporting cable core, utility fiber-to-the-home, service provider access, long line and dark fiber.