UPS invests in TuSimple to expand self-driving partnership
Peter Brown | August 16, 2019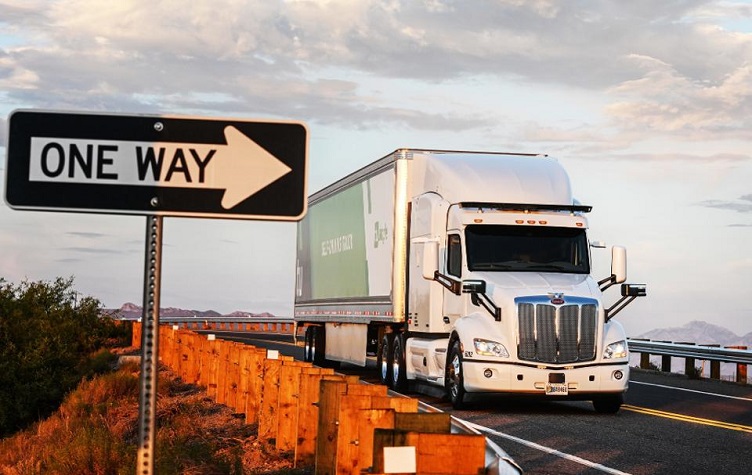 A TuSimple self-driving truck makes a delivery trip in Phoenix, Arizona. Source: TuSimple
UPS has been working on self-driving trucks in order to improve safety on the road, accelerate service and meet demand due to a lack of truck drivers.
Part of this development has been working with TuSimple, a developer of autonomous trucks. UPS is expanding that agreement by investing in the startup in order to test whether these vehicles can improve service and efficiency of the UPS network.
The investment is an extension of the ongoing commercial relationship between UPS and TuSimple in which UPS has purchased transportation services from TuSimple. The partnership began in May 2019 with TuSimple and UPS working together to ship truckloads of goods while monitoring the time it takes trucks to travel autonomously and safety data.
The goal is to develop Level 4 autonomous trucking in the UPS network, which includes puts the truck's onboard computer in complete control at all times, eliminating manual intervention. Currently, L4 autonomous driving requires a driver in the vehicle at all times to take over operation if needed.
UPS concedes that self-driving trucks still have much development and regulatory work ahead but this is the beginning phase of what could be the next big thing in first and last-mile logistics.
The shipping giant contracts with third-party trucking companies during its peak shipping season and using TuSimple could cut average purchased transportation costs by 30%, UPS said.
The development of autonomous vehicles is one part of UPS' investment into new technologies. This investment also includes the Internet of things (IoT) technology, artificial intelligence and advanced analytics to increase fuel efficiency and improve service.
UPS is not the only company working with TuSimple for future autonomous trucks. Recently, the United States Postal Service (USPS) started testing shipping parcels via self-driving trucks in a route between Phoenix and Dallas using TuSimple's trucks. The company is also seeking to teach more human drivers about autonomous technology to equip truck drivers with the knowledge and skills to expand their roles for the future of the trucking industry.