Cave of plastic built to highlight plastic pollution issue
Marie Donlon | March 15, 2019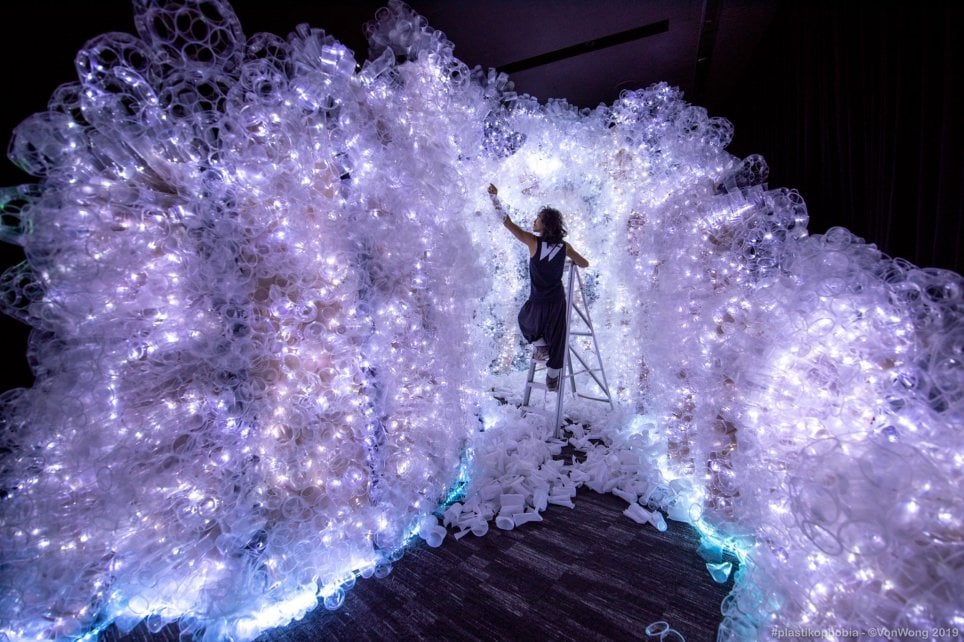 Source: Benjamin Von Wong
An artist hoping to highlight the issue of ocean plastic pollution has built an art installation composed of 18,000 used plastic cups.
Called "Plastikophobia," the cave-shaped installation is the brainchild of artist and photographer Benjamin Von Wong and was built to showcase the extent of the plastic pollution issue. To construct the cave, Von Wong, along with 30 volunteers, social impact strategist Laura Francois and fabricator Joshua Goh, spent just a day and a half collecting the 18,000 used plastic cups from food centers throughout Singapore. The team then spent an additional two days cleaning out the cups before attaching them to the cave-shaped structure and adorning them with lights. The installation is currently on display at the Sustainable Singapore Gallery, Marina Barrage, Singapore, through April 18, 2019.
This is not Von Wang's first attempt at shedding light on the issue of plastic pollution. Inspired by the phrase "It's just one straw, said 8 billion people," Von Wong built an 11 ft wave art installation composed of 168,000 reused plastic straws, dubbing the structure "Strawpocalypse." That installation is currently on display at Estella Place in Ho Chi Minh City, Vietnam, through March 24, 2019.
Von Wang is not alone is his creative approach to showcasing the plastic pollution issue. Recently, a team of environmentalists in Kenya set sail on a ship made almost entirely out of plastic waste and flip-flops. The vessel is just one demonstration of what can be done with reused plastic. Similarly, shoemaker Adidas created a line of sneakers that includes parts made from recycled plastics, and household cleaning supply manufacturer S.C. Johnson & Son is preparing to relaunch its popular Windex Vinegar in packaging composed entirely of recycled ocean plastic.