Vessel composed of plastic waste and flip flops highlights issue of plastic pollution
Marie Donlon | January 28, 2019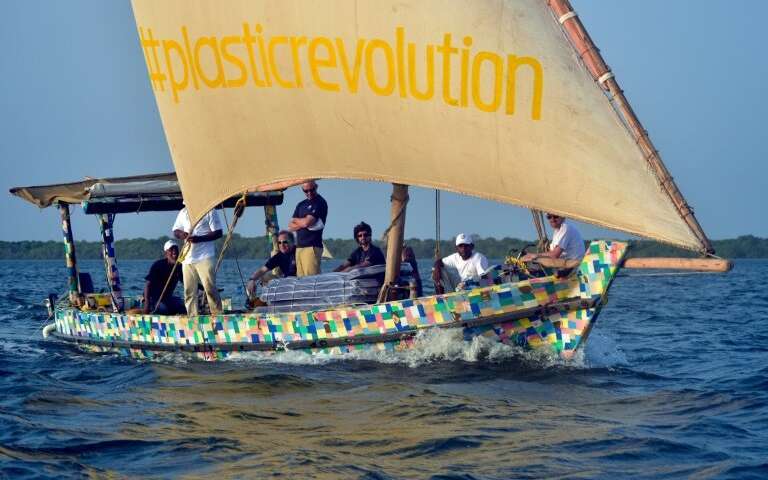 The boat is covered in a brightly-colored patchwork of 30,000 flip-flops, which like the rest of the raw material was collected from Kenyan beaches and towns. Source: AFP
Environmentalists in Kenya have constructed a boat composed almost entirely of waste to highlight the issue of plastic pollution along the East African country's shoreline.
The vessel, traditionally called a dhow, is 30 ft long and made up of 10 tonnes of shredded plastic waste that had been collected from the Kenyan coastline, and molded and compacted to create the vessel's hull, ribs and keel. The exterior of the boat is cloaked in a colorful array of 30,000 discarded flip-flops, giving the vessel its name Flipflopi. The only component not composed of waste is the dhow's wooden mast.
Flipflopi, which was hand-made by a group of volunteers, recently set sail on a 310-mile journey from Lamu Island, Kenya, to Zanzibar, Tanzania, to convey a message about recycling plastic and how the material can damage coastal communities.
According to Dipesh Pabari, Kenyan tour operator and environmentalist who led the project, "It was never about just building boats, it was a symbol about giving plastic a second life. It is about saying if this material is so amazing that you can make a seaworthy boat, it is really stupid to think about it as single use."
"The Flipflopi is living proof that we can live differently. It is a reminder of the urgent need for us to rethink the way we manufacture, use and manage single-use plastic," said Joyce Msuya, UN Environment's Acting Executive Director.
The team intends to construct another plastic dhow with plans for sailing it to Cape Town, South Africa.
Flipflopi is just one example of how innovators are repurposing discarded plastic items to keep the material from polluting the world's oceans. Sneaker maker Adidas has sold millions of pairs of an eco-friendly sneaker composed in part from plastic waste recovered from the ocean. Likewise, designers in the Dutch city of Zwolle have recently unveiled a bike path in that city composed of recycled plastic.