Windex Vinegar to be packaged in 100% recycled ocean plastic
Marie Donlon | March 05, 2019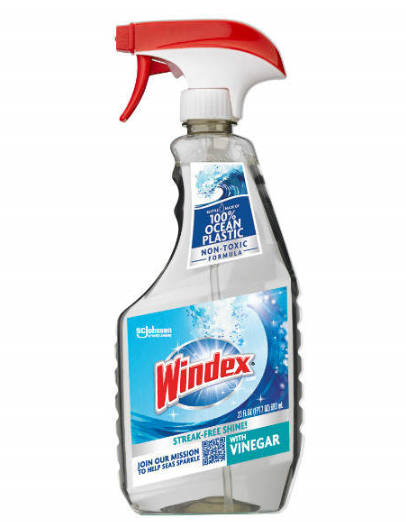 Source: S.C. Johnson & SonHousehold cleaning supply manufacturer S.C. Johnson & Son is preparing to relaunch a popular home cleaning product in packaging composed entirely of recycled ocean plastic — a world's first, according to the company.
With an expected launch date of April 2019, the company is repackaging its popular Windex Vinegar home cleaning solution in a container made entirely of ocean plastic, earning it the new name Windex Vinegar Ocean Plastic. To make the bottles, plastic waste is gathered by community members in Mexico and Haiti who live within 30 miles of the ocean or waterways. Once collected, the plastic waste is transported to a consolidation center where it is transformed into pellets and flakes, which are then destined for the United States.
An estimated eight million units of the newly packaged Windex Vinegar Ocean Plastic will be carried at North American chains such as Walmart and Target.
The initiative, which was recently announced at GreenBiz 2019, the annual conference for sustainable business, is not the only one that the company is participating in to help solve the issue of plastic pollution. The company has reportedly committed to making all of its plastic packaging recyclable, compostable or reusable by 2025 and is investigating how it can expand the ocean plastic containers to house its other products. In addition to the Windex brand, the S.C. Johnson & Son product line currently includes brand-names such as Glade, Raid, Scrubbing Bubbles, Pledge and Off!, to name a few.
"With over 5 trillion pieces of plastic debris in the ocean, conditions are continuing to get worse and worse," said Fisk Johnson, chairman and CEO of S.C. Johnson & Son. "The Windex bottle is just one of the many ways we are not only providing solutions to combat ocean pollution but taking action to make these solutions a reality."
S.C. Johnson & Son isn't alone in its efforts to curb plastic pollution. Shoe maker Adidas recently released a sneaker line also composed of ocean plastic.