Using Clay to Combat Bacterial Infections
S. Himmelstein | August 24, 2018
A reduced iron-bearing clay may help fight disease-causing bacteria in wounds, including some treatment-resistant bacteria, according to collaborators from the Mayo Clinic and Arizona State University.
The material was shown to kill some strains of bacteria under laboratory conditions, including bacteria grown as biofilms. The clay exerted antibacterial effects against bacteria such as Escherichia coli and Staphylococcus aureus, including resistant strains such as carbapenem-resistant Enterobacteriaceae and methicillin-resistant Staphylococcus aureus. A clay suspension proved effective against a number of bacteria both in their planktonic and biofilm states.
The study is preliminary and the researchers noted that only one concentration of the clay suspension was tested. The lab tests are a first step in simulating the complex environment found in an actual infected wound. As some types of clay actually help bacteria grow, more research is needed to identify and reproduce the properties of clays that are antibacterial, with the goal of possibly synthesizing a consistent compound of the key minerals under quality control.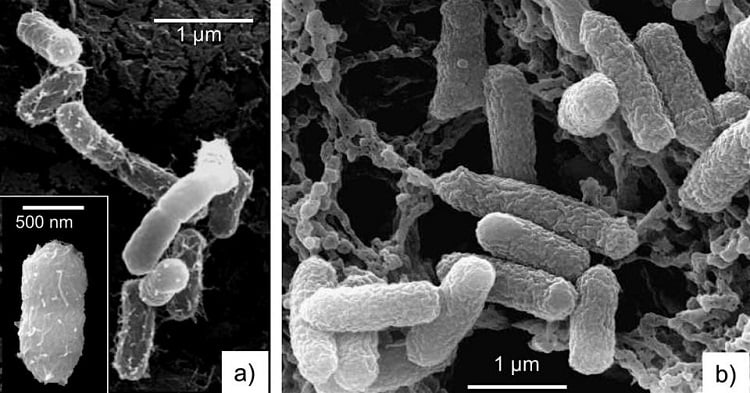 Scanning electron microscope images show (a) healthy E. coli bacteria, and (b) E. coli with damaged cell membranes after treatment with blue clay. Source: Lynda Williams/Arizona State University