Insect Wings Inspire Antibacterial Implants
Riia O'Donnell | March 27, 2016
Scientists at the University of California at Irvine have mimicked the structure of cicada and dragonfly wings on the nanoscale to use in ocular implants that not only restore vision, but deter infection under the surface of the eye.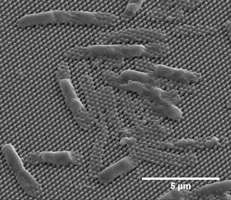 The team was able to demonstrate that the matrix of tiny barbs was able to kill bacteria with harming other cells in the eye. Image source: Mary Nora DicksonThe technology is not new. Based on work done in the early 2000s by the semiconductor industry, the team has applied the early tech to be used in poly methyl methacrylate (PMMA) already in use for applications in the optic industry, including implants and hard contact lenses. But they are taking the traditional use of the material a step further by introducing nanopillars to make the lens bactericidal without the need for a separate bacterial barrier layer or the need for patients to take antibiotics when an implant is introduced. The insect wings are coated with a myriad of pillars with pointed ends that impale and kill germs.
To achieve the cicada-like nanopillars, the team used commercially available molds that have billions of miniature pits in just a few square inches. By imprinting a heated film with the mold, the film is covered with the nanostructures when the mold is removed. The research team has been successful in replicating the cicada structures, which can kill gram-negative bacteria, such as E coli. The researchers are refining the technique to replicate the thinner, finer structure of a dragonfly's nanostructures, which are effective in killing gram-positive bacteria, such as MRSA (methicillin-resistant Staphylococcus aureus) and strep.